NEIGHBORHOOD NEWS
Eat Beat Neighborhood News
Top food news stories from around Portland, including lunch hours at Via Tribunali and a Food & Wine nod to St. Jack Pastry Chef Alissa Rozos.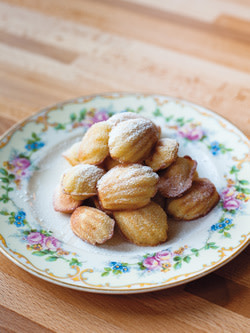 Northeast
NE Fremont: Grand Central Bakery is set to open its seventh location in Beaumont Village, at 4440 NE Fremont (formerly occupied by Fife and Soluna Grill). The new cafe will open early summer after an interior remodel.
NE 24th and Glisan: Tabla owner Adam Berger is setting out to serve "the tastiest balls in Portland" at his new meatball-centric eatery 24th and Meatballs. According to The O, the 30-seat restaurant will serve "beef, lamb, pork and turkey meatballs on hoagies, panini, cheesy polenta, and at least one fresh pasta prepped at Tabla each day". Also, frozen custard! Stay tuned for more info.
Southwest
SW Third: The pizza slingers over at Via Tribunali have announced that the Neopolitan eatery will start lunch service on Monday, February 13. You can now get your Pizza Margheritas and Calzones starting at 11:30 am, Monday through Saturday. (They've also got heart-shaped pizzas for Valentine's Day!)
SW Salmon: Aaron and Jessica Grimmer, co-owners of crepe-and-rice-pudding joint Pudding on the Rice, are opening a new eatery at 723 SW Salmon. The Picnic House will be a 55-seat "fast-casual" eatery, stay tuned for more info.
SW Washington: More word on Christopher Israel's downtown taco from The O. The soon-to-open eatery has been dubbed Corazon, and is set to serve "$3 beers, shots and seven types of tacos (think fish, octopus)." Good fish tacos in Portland? Finally.
Metro Area
All Around the Bubble: The Tigard-based Typhoon! Thai restaurant chain has permanently closed all locations, according to a press release from co-owner Bo Kline. Citing the emotional and physical tolls of operating the business, as well as the death of co-founder Steve Kline last year.
National
The Internets: St. Jack pastry chef Alissa Rozos is a West Coast finalist in the Food & Wine Magazine People's Best New Pastry Chef competition. Readers have the chance to vote for their favorite pastry pro on the website, so go show some Portland Pride!
Got a food news tip? Send it my way at [email protected]!