NEIGHBORHOOD NEWS
Eat Beat Neighborhood News
Top food news stories from around Portland, including the expansion of the Bunk Empire and more details about Duane Sorenson's next project, Woodsman Hall.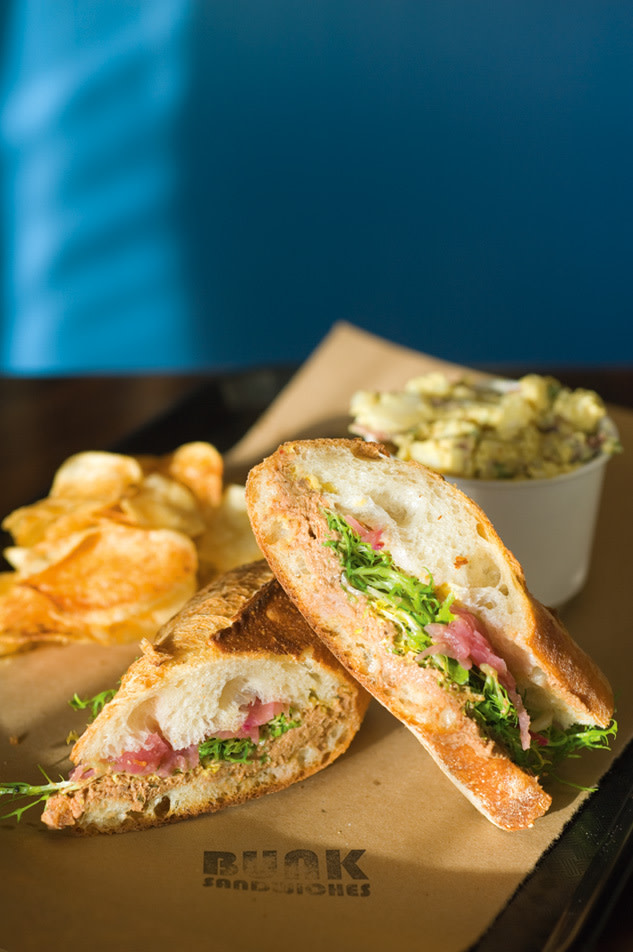 Southeast
SE Division: Woodsman Tavern and Stumptown Coffee owner Duane Sorenson has announced more details about another addition to his one-stop-shop of a block on SE Division. Joining the Tavern, neighboring Woodsman Market, and Stumptown Coffee Shop will be the 5,000-square-foot sausage-and-beer-serving Woodsman Hall. According to Eater, the space will feature exposed brick, native wood beams, a fire pit, and 'beer hall'-style tables. (We hinted at the project in our full review of Woodsman Tavern here).
Northeast
NE Fremont: Johanna Ware—formerly of Nostrana and David Chang's Momofuku Ssam Bar and Momofuku Noodle Bar—has debuted her own eatery Smallwares at 4605 NE Fremont St. The eatery is serving "inauthentic Asian" small plates, and will be open Tuesday through Thursday and Sunday from 11:30am to 10pm, and will stay open an hour later on Friday and Saturday.
Southwest
SW Pine: Blue Collar Baking Company is now open the the public at 319 SW Pine Street, and you can see photos of the space on Eat Beat here.
SW 6th: Cochon 555, the annual pork-fueled smackdown that pits chef against chef in a battle to the tastiest, is coming through PDX again this year on March 12 at The Original. This year's participating chefs include Vitaly Paley of Paley's Place, Naomi Pomeroy of Beast, Adam Sappington of The Country Cat, Jason Barwikowski of The Woodsman Tavern, and Rita Jia You of Lucky Strike. Guests will also be able to dig into porky delights from Nostrana's Cathy Whims and EaT: Oyster Bar's Ethan Powell and Tobias Hogan. For ticket info, visit the Cochon 555 website.
Citywide and Beyond
Bunk Empire: According to Eater PDX, Tommy Habetz and Nick Wood of Bunk Sandwiches will be collaborating with ChefStable's Kurt Huffman to expand the sandwich mini-empire to more PDX locations and, potentially, others around America. Possibilities for nation-wide expansion include Los Angeles and Chicago. Bunk Sandwiches currently operates three locations in Portland, the flagship shop on SE Morrison, Bunk Bar in the Industrial Southeast, and the new downtown location on SW 6th.
Top Chef!: A source has informed the Boston Business Journal that Top Chef's upcoming 10th season could in in Boston or Portland. Mayor Sam Adams has jumped on the bandwagon in favor of bringing the hit cooking show to PDX, saying via Twitter "Portland vs. Boston!? Baked Beans, Bulkie Rolls & watery beer!? That's our competition!? Game on!" Stay tuned for more info, and keep them fingers crossed.
Got a food news tip? Send it my way at [email protected]!