FOOD AND DRINK EVENTS
Eat Beat Weekly Planner
Our digest of Portland's top upcoming food and drink events, including a carbonated cocktail seminary with Jeffrey Morgenthaler and two tapas dinners worth a taste.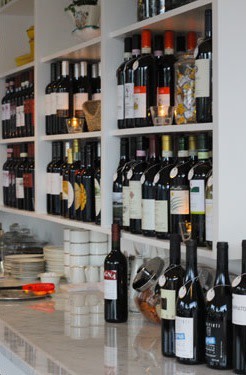 Great Wine Buys Vietti Dinner at Luce Restaurant
What: A seven-wine, five-course dinner at Luce highlighting the wines of Vietti, one of the top producers of Piedmont. Chefs John Taboda and John Willis will prepare classic Piedmontese dishes including eggs in green sauce, risotto with red wine, and capon in hazelnut and honey sauce. Paired wines will include Arneis, Barbera d'Asti, Nebbiolo Perbacco, Barolo Castiglione, an older single-vineyard Barolo, and Moscato.
When: Wednesda,y Febuary 8th at 7 pm.
Where: Luce, 2138-2140 E. Burnside St
How Much: $75 including all food, wine, and gratuity. For reservations, call Great Wine Buys at 503-287-2897.
Tapas & Tango with Penner-Ash, Toro Bravo, and Ned Ludd
What: A pre-Valentines' Day tapas feast featuring flowing Penner-Ash wine and plenty of dancing to a live band. Chefs John Gorham of Toro Bravo and Jason French of Ned Ludd are crafting a tapas-inspired menu from locally sourced ingredients, and Alex Krebs, world renowned tango dancer and instructor, will show guests the basics of the most romantic dance in the world.
When: Friday, February 10th at 5:30
Where: Penner-Ash Winer
How Much: $100 per person. For reservations, call 503-554-5545.
Carbonated Cocktail Seminar with Jeffrey Morgenthaler
What: Get the low-down on bubbles, the biggest trend in cocktails, from one of the best bartenders in Portland. Find out about home carbonation, try a few sparkling cocktails for yourself, and embark on a crash course in the history of carbonation. This is a Portland Culinary Alliance event, but is open to the public.
When: Sunday, February 12th at 2 pm.
Where: Oregon Culinary Institute, 1701 SW Jefferson St.
How Much: $25 PCA members, $30 non-members. For more information and to reserve a spot, visit the Portland Culinary Alliance website. Reservations must be made by Thursday, February 9th.
Vegetarian Dinner at Beast
What: The next round of meat-free feasting at Northeast's hottest little eatery is scheduled, and the menu is set to feature crispy yellow beets and chervil, truffled goat cheese raviolo, white bean tartlettes, citrus cream cake and more. These dinners sell out fast, so make your reservations ASAP.
When: Tuesday, February 21st; Seatings at 6 and 8:45 pm.
Where: Beast 5425 Northeast 30th Avenue
How Much: $100 per person (including all food and wine pairings). For reservations, call 503-841-6968.
Momokawa Saké Supper Club at Wildwood
What: First in a series of Oregon craft saké pairing dinners, featuring sips from SakéOne in Forest Grove and nibbles from . Each chef was told to avoid the typical Asian fare and get inspired with new flavor combinations, so Chef Dustin Clark of Wildwood will pair these local sips with his hyper-local Northwest Cuisine. The next dinners in the series will feature dishes from Andina and Saucebox.
When: Friday, February 24 at 7 pm.
Where: Wildwood Restaurant 1221 NW 21st Ave; 503-248-9663
How Much: $55 per person, including food and saké.
The Reign of Spain: An Evening of Tapas at Kenny & Zuke's
What: The ninth annual Spanish tapas dinner at Downtown deli Kenny & Zuke's, featuring more than fourteen traditional family-style small plates washed down with pomegranate Sangria.
When: Sunday, February 26, seatings at 4:30 and 7:15
Where: Kenny & Zuke's 1038 Southwest Stark Street
How Much: $42.50 per person, including food and sangria, $35.50 food only, $19.75 kids under 12. For reservations, call the restaurant at 503-222-3354.
Portland Food Adventure at Gilt Club, with Lardo
What: Next up in the popular Chef's Choice dinner series from Portland Food Adventures, an interactive multi-course meal with chefs Chris Carriker of NW Broadway's Gilt Club and Rick Gencarelli of crave-worthy cart Lardo. Diners will enjoy the decadent eateries' signature flavors and chat with the chefs about their favorite Portland restaurants and bars.
When: Wednesday, February 29 at 6:30 pm.
Where: Gilt Club 306 NW Broadway
How Much: $125 per person, including dinner, cocktails & wine, tip, and gift certificates to some of the two chefs' favorite Portland places. For reservations, head to the PFA website.
Patton Valley Vineyards Winemaker Dinner at Bluehour
What: A five-course pairing menu. Winemaker Derek Einberger and Chef Thomas Boyce will be on hand to discuss the dishes, wines, and more. Courses are set to include smoked trout with caviar, seared Maine diver scallops (paired with 2009 Wente Clone Chardonnay), Striped Bass with blood sausage (paired with 2009 Willamette Valley Pinot Noir), Sudan Farms Lamb two ways (paired with 2009 Lorna Marie Pinot Noir), and much more.
When: Saturday, February 11 at 6:30 pm.
Where: Bluehour's Private Dining Room:
How Much: $100 per person including food and wine. Gratuity not included. For reservations, call 503-226-3394.
Know about a great event coming up that should be on our radar? Shoot me an email at [email protected] or give me a shout over on Twitter at @allisonejones. Now get out there and start eating!