FOOD AND DRINK EVENTS
Get Schooled
We've rounded up the best cooking classes around Portland where seasoned pros help you, your date, and your kids hone those culinary skills.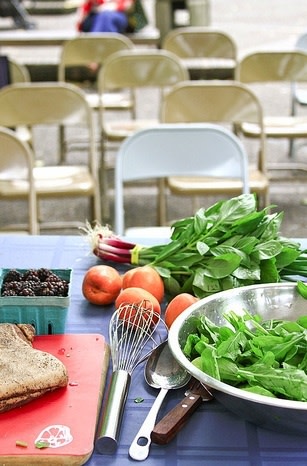 Ever wanted to know more about the magic going on in professional kitchens around Portland? You're in luck—plenty of regional culinary experts are in the business of bringing the pro tips and tricks to you.
Here are our picks for the top cooking classes around town, whether you're an experienced home cook or need to start with the basics.
Milwaukie Kitchen and Wine
This new grocery/deli/cooking school from Pascal Sauton is offering exciting classes taught by true local experts. From tapas dinners from Crown Paella's Scott Ketterman to Indian Cuisine classes from Leena Ezekiel, this intimate series is a sure bet for folks hoping to dive deeper into home cooking.
Upcoming classes: Braises and Confit lead by Sauton himself, Italian Trattoria Dinner with Amelia Hard & Allison Bader, English Tea Party with Meredith Mortensen Price.
Location: 10610 SE Main St, Milwaukie
How to sign up: For more information visit milwaukiekitchen.com
In Good Taste
One of the vangaurds of Portland cooking classes, this Lake Oswego-based company offers eclectic classes that always end in a full meal—often with wine! From intensive multi-week cooking series to special date night classes for two, this cooking school is bound to have something for everyone.
Upcoming classes: Farmhouse Cooking in Tuscany with Pamela Sheldon Johns, Spring Break Cooking Class for Kids and Teens, Artisan Sausage Making, Culinary Date Night featuring Asian Cuisine.
Location: 6302 SW Meadows Road in Lake Oswego
How to sign up: For more information visit ingoodtastestore.com
Portland's Culinary Workshop
One of the newer schools in town, Portland's Culinary Workshop is lead by professional chef-instructors Melinda Casady and Susana Holloway. This moderately-priced option offers classes around $60 for cooks of all skill levels, from basic braising to butchery.
Upcoming classes: Fresh Cheese 101, Ramen from Scratch, Advanced Cake Decorating, Thai Street Food.
Location: 807 N. Russell Street
How to sign up: For more information visit portlandsculinaryworkshop.com
The Merry Kitchen
Here's one for the kids! This school offers classes for children and teens led by Registered Dietitian and Chef Julie Merry. She's got a fully-stocked kitchen and a large organic garden in her backyard to show kids not only how to cook great food, but how to grow it, too.
Upcoming classes: Roll-your-own Sushi, Slumber Party Treats, Hogwarts Table, Cookie & Cupcake Decorating, Dim Sum, Gluten-free Baking.
Location: 5202 NE 72nd Avenue
How to sign up: For more information, visit themerrykitchen.com
Portland Meat Collective
This meat-centric cooking school and community of quality animal product activists believes that everyone should have a deeper understanding of the way food gets to our table. PMC connects Portlanders looking to source local meat directly with the farms that are sustainably raising animals in the region, and offers classes to give home cooks the butchery to charcuterie skills needed to make the most of their freezer full of pork, goat, or rabbit.
Upcoming and Recent Classes: Basic Pig Butchering, Sausage Making, Rabbit Butchery, and Charcuterie Instruction (think rillette, bacon, hams, sausage, and pâté)
Location: Varies
How to sign up: For more information, visit pdxmeat.com
Caprial and John's Kitchen
Long-time Portland food VIP's Caprial and John Pence team up to demonstrate their tips and tricks for intimate groups of 15 diners. Though not as hands-on as other classes, "students" in Caprial and John's Kitchen are treated to a full dinner at the end of the demo and receive plenty of guidance for duplicating dishes at home.
Upcoming classes: Southern Style, Spring Pasta Sauces (at KitchenCru), French Sunday Luncheon, Entertaining Italian Style.
Location: 609 SE Ankeny Street
How to sign up: For more information, visit caprialandjohnskitchen.com
Take it to the next level…
Do you dream of culinary school but can't make the leap from your current career, or want to truly hone your skills as a home gourmand? Robert Reynolds Chefs Studio offers eight-week culinary diploma courses specializing in classic French techniques.