HAPPY HOUR OF THE WEEK
Happy Hour at the New Suzette
Now that Alberta's most popular crêpe cart has relocated to a brick-and-mortar on Belmont, owner Jehnee Rains is dishing out weekly happy hour offerings that are flat-out awesome.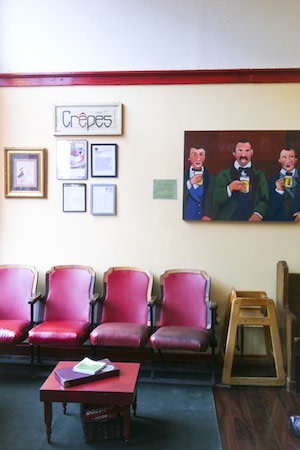 Once a pastry chef at Chez Panisse, Bluehour, and clarklewis, Jehnee Rains has been flippin' and fillin' crêpes at Suzette—her sweet Alberta eatery that was part food cart/part carriage house—to the tune of rave reviews since 2009 (including a nod in our own Best Restaurants 2011).
However, when the talented chef caught wind of a vacancy in a prime Southeast Belmont location, moving her petite crêperie south was a no-brainer: the opportunity for more space, reliable heating, and a full liquor license was too good to pass up.
The move was a smooth one, and Suzette's new bright, spacious, and colorful home—in the former House of Records/It's a Beautiful Pizza space—reopened on February 3rd.
The eatery boasts forty seats, full lounge and bar area, as well as local art and quirky touches (think vintage typewriters and a purple cabinet housing stemware). Unlike the old space, which could get pretty chilly on rainy days like these, the new crêperie keeps diners cozy and safe from the elements (though a cup of soup is still a welcome warmer).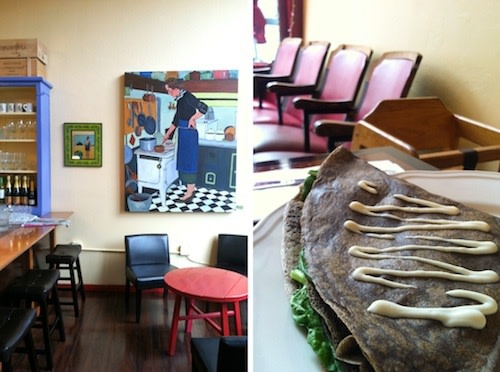 Fans of Suzette's menu will be glad to see that the classic sweet and savory crepes (complete with vegan and gluten-free options) and crave-worthy French onion soup are still available, but with the new location comes new happy hours and a full bar. Tuesday through Saturday from 4 to 6 and 9 to close, the $3 happy hour offerings draw a crowd. Guests can fill the table with a veritable Greatest Hits mix of Suzette dishes, including ham and cheese, prosciutto, sautéed mushroom, and marsala soaked fig crêpes for just three bucks each. Add a few cups of soup and a round or two of microbrews and you've got yourself a Parisian party that will make everyone happy.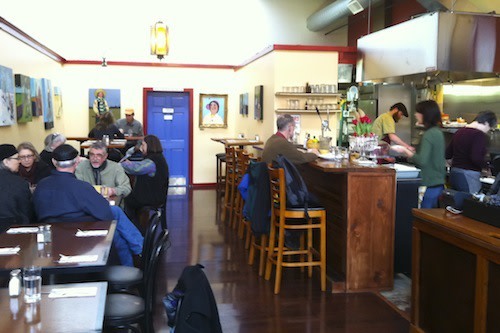 Suzette Crêperie
3342 SE Belmont Street; 503-546-0892
Happy Hours: Tuesday – Saturday 4 to 6 pm, and 9 pm to close.
Pre-fixe Brunch: Saturday and Sunday, 9 am to 2 pm
Regular Hours: Tuesday through Thursday, 11:30 am to 10 pm; Friday 11:30 am to midnight; Saturday 8 am to midnight; Sunday 8 am to 4 pm.