Happy Hour
Happy Hour: Bent Brick
Bent Brick does haute for less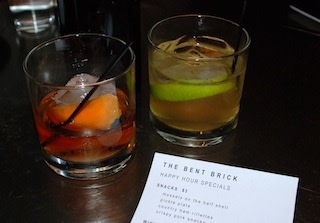 A perfect mating between old-world gentleman's club charm and the ever-popular industrial aesthetic, wrapped in stone and ivy and moved to the Pacific Northwest, the Bent Brick is as seamlessly fashionable at Happy Hour (5-6:30 PM daily) as it is the rest of the day.
Cocktails during this twilit time are only $5, and though the selection is small, the choices are inspired: a simple G&T gussied up with house-made tonic; an Old Fashioned exuding house bourbon and a thick orange twist; a Moscow Mule made with vodka and lime and a kick of never-fresher ginger. Drinks come in buzz-friendly tumblers, hugging one giant ice cub apiece and smacking of simpler times. House red or white wine is also available for $4, and Astoria-born Fort George 1811 lager pounders for $3.
The snack selection (all $3) is equally small but tasty. Arranged on the classic jumble of rocks, mussels are served cold on the half shell with smoky aioli and a dab of spicy mignonette on top. Country ham rillettes marry with green tomato mustard and thin, oily (but not too oily!) slices of crunchy toast. A pickle plate awaits those with tangy proclivities and adventurous palates: among the offerings are beets, jicama and shrimp. And don't be fooled by the crispy pork snacks, buffalo style…these aren't your childhood pork rind, but something much nicer indeed.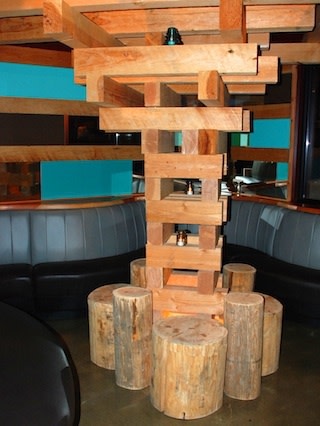 While decadent, be prepared that none of the happy hour food is very filling, and eating anything more substantial will cost you. Small plates (such as clam chowder with sunchokes and seaweed ($10) or sweetbreads with cabbage, horseradish and bacon ($13)) are lovely but, as the name implies, not large; main dishes range from $19-22 and are limited. Other offerings include desserts for $8, candies for $2.50, and an extended cocktail list.
Still, the Bent Brick's appeal lies not in large servings but in the care taken to prepare each dish, the hyper-local ethic and the dimly lit grace of its insides. A beautiful and well-stocked bar combine with an open kitchen and spacious layout to create the ideal watering hole, especially if you're wearing nice duds and are on your way to somewhere fancy. Even if you aren't, though, Happy Hour makes an otherwise spendy stop more than worthwhile.