Happy Hour
Happy Hour of the Week
Seres has a massive menu and dynamite drinks.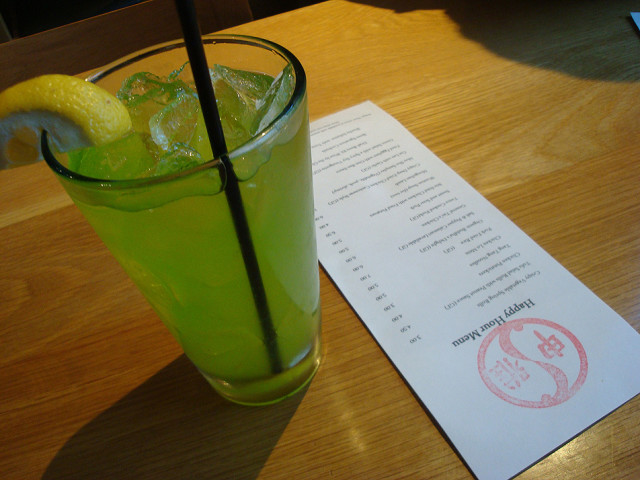 No one can accuse the Pearl of lacking in glossy establishments; the dashing, delicious, and daring stack up like so many namesakes on a strand. But Seres (1105 NW Lovejoy St.), a clean, modern fusion of Szechuan and regional Chinese with a sustainable bent, glimmers among its brethren like a rosy, soy-scented candle.
Low-slung tables, simple wood paneling, a kindled pinkish glow, and an ephemeral trickle of steam lend proceedings a faint aura of a Finnish bath. For those of us who have always burned with secret desire to eat using chopsticks inside a soaringly spacious sauna—well, wish granted. If this is not on your particular bucket list, never fear; the Seres experience fits a wide definition of pleasant, with comfortable chairs, sweeping windows, and tiny, mossy centerpieces that defy categorization and provide minutes of speculative entertainment.
Should you choose to order off the extensive cocktail list, those minutes could quickly become an evening. Happy Hour is 3-7 daily except on Tuesdays, when cheap pours last from 3-10. That may seem like a long time to linger, but with drinks like the Red Lotus (pomegranate vodka, triple sec, cranberry juice, pomegranate juice, and lime) and the Sweet and Sour Drop (Absolut pear, triple sec, and lemon juice) ringing in at just $6.50 (not to mention beer and wine for $3 and $5, respectively) there's a lot to do and less time to do it in. And don't forget shochu, a Korean-born liquor made with sweet potato, barley, rice, corn or buckwheat, that's a refreshing and light addition to the cocktail-maker's repertoire.
Even though it can stand proud of its cocktails, Seres is not the kind of restaurant that needs to liquor-up its diners so they will forgive the food. To the contrary, mouth-watering calamari, lightly fried and tossed with vegetables ($5), crunchy spring rolls ($3), and traditional hot & sour soup ($2) light up the Happy Hour menu, which contains almost two dozen choices, over half $5 or less, and six of them gluten-free.
While Buddha's Delight (lightly sautéed mushrooms and vegetables, redolent with soy sauce and aromatics, unassuming and utterly delectable for $7) and prawns with snow peas ($6) might accrue gluten-free expectations without pause, it is more impressive in the case of crispy deep-fried chicken and Kung Pao chicken, both delicious and friendly to the gluten-conscious for $6 a generous plate. Not enough? Request a gluten-free menu and sift through dozens of dishes of the meat, seafood, noodle and veggie persuasion. And gluten-free or not, feel free to turn your Happy Hour into a Happy Night: Seres' main menu features a dizzying array of choices in every category, sure to keep even the most consummate customer busy for as long as they wish.
And for those of us who like a weeknight cause, Seres' social and environmental conscience shines through its surface-level goal to provide great food and drinks for a price that won't break the bank. Writ large on its "*sustainability page*":http://seresrestaurant.com/about-2/, Seres' efforts combine a more prosaic composting/recycling model with inspired twists: a reusable container incentive program, biodiesel donations, and anal-retentive waste maintenance. Not only that, but their food is sourced locally and organically wherever possible. So tuck in Szechuan-style, and while you're at it, give yourself (and Seres) a pat on the back.