Market Watch
Magic Mustard
Making your own is not hard, though it is a seedy endeavor.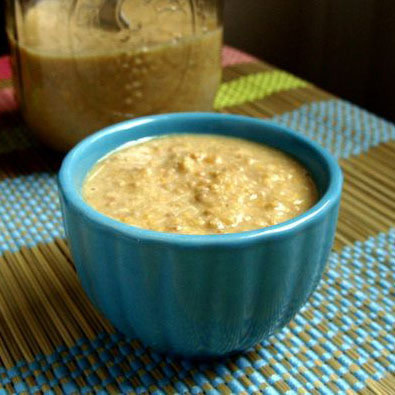 With local restaurants regularly crafting their own ketchups and hot sauces, the condiment craze is clearly upon us. Mustards must be next, right? Mustard mania means specialty mustard tailor-made to your taste. Hot or not, yellow or brown, smooth or chunky with seeds. You make the calls when you make the mustard.
Of course, jars of gourmet, store-bought mustard are delights, always fun to try. So many varieties from so many countries. But how many jars of mustard can you really have cluttering your fridge? Making your own mustard, you concoct just the amount you want, and tinker over time with the liquids and spices you add to later batches.
To start with the simplest variety of homemade mustard, seeds (or even just mustard powder) and water are all you need to start. The powder and cold water will make a very hot mustard paste, like a Chinese mustard. Using seeds, the recipe is still easy if you first soak the seeds at least 24 hours (in cold water or vinegar) and if you have a food processor. (Mortar and pestle? Not so easy.)
Use brown or yellow seeds – or both. Or black, if you can find them; they're not easy to come by, though supposedly they grow wild in California. Yellow seeds (also called white) are a bit milder than the brown, and more commonly American than the brown seeds most often found in European mustards (Grey Poupon, anyone?).
Grind the soaked (and thus softened) seeds in the food processor and then move on to experimenting with tasty additions. Beyond the basic mix, the variations are endless. Add other liquids besides water – beer, hard cider, wine or vinegar. Mix in honey or brown sugar, herbs or nuts, though with fresh, non-fermented items, the mustard will not last quite as far into forever as it would otherwise.
If you want smooth mustard, you'll have to take the time and effort to push the mixture through a fine sieve, leaving the seed husks behind. (I'm too seedy to worry about that step.)
There is clearly no single right way to make mustard, but you could consult the The Mustard Book written by mustard mavens Rosamund Man and Robin Weir. This is one of their recipes, as adapted by Noelle Carter.
Roman Mustard
Total time: 15 minutes, plus 1½ to 2 days soaking time for the mustard seeds
About ¾ cup plus 1 tablespoon (5 ounces) brown mustard seed
1/2 cup red wine vinegar
3/4 cup unsweetened red grape juice
1 1/2 teaspoons very coarse salt, such as Maldon
1 teaspoon cumin seeds, finely ground
1/4 cup (1 ounce) flaked almonds
1/4 cup plus 1 tablespoon (1½ ounces) untoasted pine nuts
1. Soak the mustard seeds: Place the mustard seeds in a medium glass or ceramic bowl along with the vinegar and grape juice. Mix in the salt and cumin seeds. Set aside, covered (but not sealed airtight), for 36 to 48 hours.
2. Place the mixture in a food processor and process for 1 to 2 minutes until the seeds are coarsely ground. Add the almonds and pine nuts and pulse a few times just until the nuts are completely broken up, careful not to over-process. This makes about 2½ cups mustard.