FESTIVE FOODIES
Mardi Gras, Portland Style
Mardi Gras is next Tuesday, February 21st, and these Portland restaurants are hoping to prove that Oregonians know how to party as well as anyone in the French Quarter.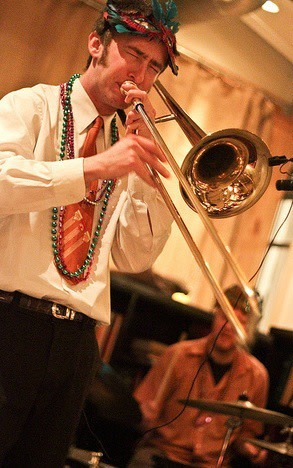 Grab your feathered masks and stock up on the beads, because Mardi Gras is less than a week away. If you're not hopping on a plane to New Orleans this weekend, enjoy the next best thing right here in Portland. These decadent and colorful gatherings are sure to put the jazz in your step and the Fat in your Tuesday.
Pearl District hot spot Irving Street Kitchen's Second Annual Mardi Gras bash promises to be an indulgent evening of music, food, drinks, and maybe a little bit of magic (701 NW 13th St). The dining room tables will be pushed away to make room for the dance floor where guests will be groovin' to Southern Blues and sippin' Hurricanes and Sweet Tea punch. Activites are set to include tarot readings, dancers, and magicians—last year's party featured fire dancing, and this year's fete is going to be even hotter. Chef Sarah Schafer will be waking up early to spit-roast a whole Carlton Farms pig on the patio, mix up some spicy jambalaya, shuck a few hundred oysters, and bake her mama's sweet King Cake to prepare for the night's all-you-can-eat affair. It's all going down Tuesday, February 21st starting at 6 pm, and tickets start at $45 a head (including a NOLA-style buffet and plenty of Mardi Gras beads). To purchase tickets, call Annie at Irving St. Kitchen 503-343-9440, or email her at [email protected].
Northeast Fremont's cozy Southern kitchen Acadia is also turning up the heat for next Tuesday's big party. The restaurant will feature a four-course meal in addition to the regular Cajun-inspired menu. $45 gets each diner four courses (think crab cakes with crab bisque, "crawfish boil" salad with crawfish tails, corn, potato, onion, and andouille, dirty rice-stuffed quail, file gumbo, and house-made King Cake with cream cheese icing) as well as plenty of Mardi Gras beads, masks, and doubloons. Guests who find the plastic baby in their slice of cake will win a $50 gift certificate for a return trip to the eatery. The menu will be offered from 5 to 10 pm on Tuesday, February 21st, and reservations will be accepted (just call 503-249-5001).
Four Brothers from Houston, Texas opened the quaint, friendly My Brothers Crawfish to satisfy their craving for traditional Creole comfort food and fresh seafood boils. They fly their crawfish live from Louisiana 2-3 times a week, and have secured an additional 90 lbs. for Fat Tuesday festivities that will inclued an evening of collecting beads and listening to some New Orleans's jams. They are open extended hours and extending their generous happy hour that boasts Cajun Bloody Mary's and traditional Hurricanes paired with oyster shooters, dark roux gumbo, Dungeness crab cakes, and a delectable Banana's Foster dished out for dessert. (503) 774-3786
Want to get the party started early? Head to the Bossanova Ballroom's second-annual Portland Mardi Gras Ball for a night of Tickets are $25 when ordered online, and get you in the door with a plate of Louisiana grub provided by the Swamp Shack and a no-host bar. Music will be provided by Too Loose Cajun/Zydeco Band, Atomic Gumbo, the Transcendental Brass Band for plenty of jazzy grooves, and guests will compete for best zoo-inspired mardi gras costumes. The party starts at 7 pm on Saturday, February 18, at the Bossanova Ballroom (722 E. Burnside).
Laissez les bon temps roulez, or for the rest of us, let the good times roll!