OPENING WEEK
Opening Week: Blue Collar Baking
Warren Becker's working-class sweet shop opened its doors this week on Southwest Third and Pine, and we've got photos of the space that's "not afraid of butter!"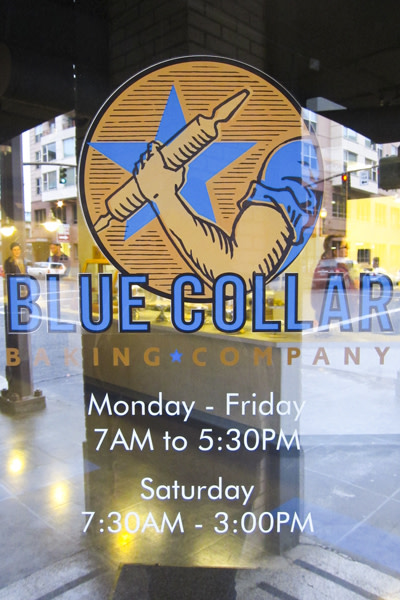 Warren Becker's spacious, light-filled bakery has launched into its first week of business catering to the cookie cravers and Bundt lovers of Downtown Portland's workforce.
Blue Collar Baking Company, attached to the lobby of the Embassy Suites on Third and Pine, is home to a large open kitchen, a long counter stocked with fresh-baked goodies, and plenty of tables and nooks for cozying up with a newspaper, a mug of Water Avenue coffee, and a plate of sweets.
In addition to cookies, bars, coffeecakes, tea breads, scones, and Bundt cakes, the kitchen will serve up panini sandwiches and granola parfaits. Every item on the menu carries the throwback theme of Becker's blue-collar roots growing up in Milwaukee, Wisconsin in the 1960s, and the bakery is decked out with lunch pails, thermoses, industrial clocks and workingman-inspired art.
Blue Collar's cookies all have working-class names, like the Lunch Whistle with cranberries, white chocolate, and orange zest, the peanut butter Jackhammer, and the Big Rig, an oatmeal butterscotch cookie laced with cinnamon. According to Becker, "All the cookies cost a buck, because that's what cookies should cost."
Here, diners are encouraged to stay a while, with free wi-fi, comfy couches, and an atmosphere that speaks directly to the working stiff in all of us that just needs a cookie at the end (or beginning) of a long day.
Blue Collar Baking Company.
319 SW Pine Street; 503-227-3249
Monday through Friday: 7 am to 5:30 pm
Saturday: 7:30 am to 3 pm