FOOD AND DRINK EVENTS
Party Pics: Mardi Gras at Irving St. Kitchen
Burlesque dancers! Tarot readings! A whole roasted pig! Eat and drink vicariously through my photos of this annual Pearl District Fat Tuesday party.
Irving Street Kitchen certainly knows how to let the good times roll—and we've got the pictures to prove it.
Last night was the second annual Mardi Gras bash at this Southern-inspired eatery, complete with a Creole buffet, all-you-can-eat oysters, slices of King Cake based on chef Sarah Schafer's mother's recipe, burlesque dancers, zydeco music, and plenty of old-school New Orleans cocktails.
Hundreds of revelers decked in colorful beads, feather masks, and more than a few sequins packed into Irving St Kitchen for an evening of fun to benefit Portland's Rose Haven Day Shelter for Women and Children. A photo booth flashed in a corner catching plenty of smiles, as I wandered the room snapping photos of the rest of the fun.
Mark your calendar for next year's Mardi Gras event, Tuesday, February 12, and for now, eat up some pics:
The dining room's tables were cleared out to make room for the Southern feast, a dance floor, the raw oyster bar, and a stage for Burlesque dancers.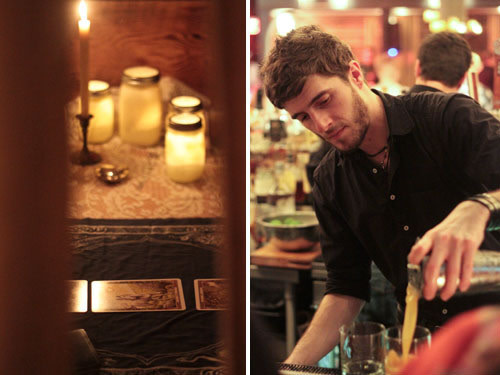 Tarot readers were set up in Irving St's cozy curtained booths to reveal the future of party guests. The most likely revelation? Time for another New Orleans-inspired cocktail (the bartenders were shaking up classic Hurricanes and Sweet Tea punch).
Executive Chef Sarah Schafer was up in the dark hours of the morning to roast a whole Carlton Farms pig on the Irving Street patio. In addition to the succulent pork, the kitchen dished out plate after plate of jambalaya, dirty rice, fresh oysters, creamy mac & cheese, and more.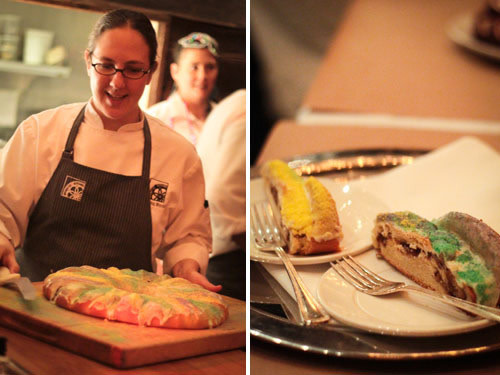 For dessert? A classic King Cake—sweet dough swirled with cinnamon and sugar topped with icing and colorful sugar—with a plastic baby tucked inside…
The lucky guest who received the baby in their slice was crowned Queen of Mardi Gras, and will return to next year's party with ten of her friends—on the house.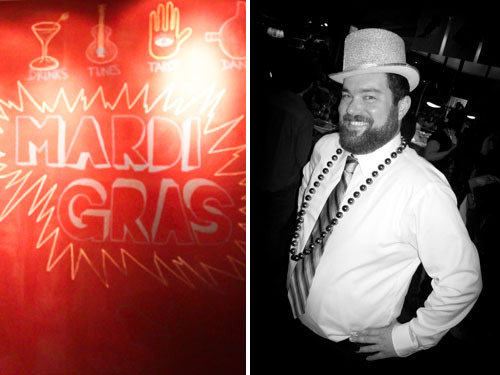 The night was emceed by gregarious food personality Don Bourassa of Yelp Portland.
Guests were treated to sultry shows from three of Portland's best burlesque dancers for some old-school fun.
Local band Biscuits & Gravy entertained the room with live country folk jams (and one of the members just happens to be Chef Schafer's brother).
Laissez les bons temps rouler!
All images by Allison Jones