FOOD AND DRINK EVENTS
Portland Monthly's Country Breakfast
Yeehaw! Ya'll best come on down to the wildest party in the west, with four of them top Portland chefs dishing up mornin' style vittles and the city's top five Bloody Marys in a smackdown to rival any noontime duel.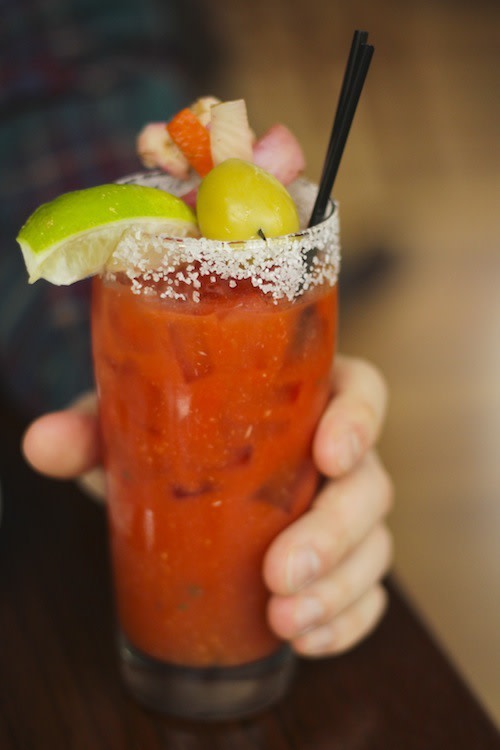 It's time to rise and dine, folks! The March issue of Portland Monthly is all about the morning meal, and we've rounded up the best breakfast dishes and drinks in every corner of the city. Check out Portland's 10 Best Breakfast Dishes, 10 Top Biscuits, 5 Baked Goods worth waking up for and the 5 Best Bloody Marys to wash it all down.
What better way to celebrate our love of good ol' breakfast than with a hoedown, Portland style, complete with country-style grub and a booze-fueled contest worth shoutin' about? We can't think of one either, and that's why we're hosting the Portland Monthly Country Breakfast and Bloody Mary Smackdown on Sunday, March 25th from 10 am to 1 pm. We're decking out Miller Hall at the World Forestry Center with hay bales, picnic tables, and a dancefloor big enough for everyone.
New takes on favorite breakfast dishes will be served up by Cathy Whims of Oven & Shaker, Jenn Louis of Lincoln Restaurant, Chris Carriker of Gilt Club, and Gregory Gourdet of Departure. On the liquid side of things, bartenders from Tasty n' Sons, Podnah's Pit, Irving Street Kitchen, Ned Ludd, and Screen Door will be going head-to-head to prove they've got the best Bloody Mary in town. We've got a celebrity judging panel to taste them all, but the most important prize is the People's Choice Award, decided by YOU!
The country good times don't stop there—live tunes will be provided by the Jackalope Saints, and there will be plenty of beer, cocktails, mimosas, kid-friendly beverages and other surprises throughout the morning. Best of all, the fun is for a great cause: 100% of net proceeds will benefit p:ear.
Want to get in on the fun? Tickets are just $25 for all-inclusive food and drinks (including five Bloody Marys!), $15 for breakfast only, and kids five and under are free! This'll be a party Portland's going to talk about for years, so don't miss out. Get your tickets here, and we'll see you there!