HOMETOWN PRIDE
Portland Sweets Earn Praise from Bon Appétit
PDX baking queen Kim Boyce and local chocolate makers Xocolatl de David and Cocanú nab well-deserved nods in BA's March 2012 issue.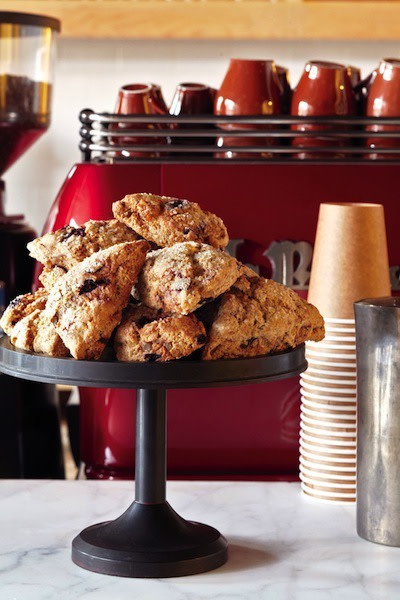 Portlanders are growing happily accustomed to seeing mentions of local goods in the mass media, and the March issue of Bon Appetit features a few hometown heroes in the city's growing artisan sweets biz.
VIP pastry chef and Bakeshop owner Kim Boyce is heralded for whipping up one of the Best Coffee Bar Desserts in America with a spotlight on her cherry-ginger scones available at Ristretto Roasters.
Home bakers rejoice: For the article, Boyce shared the recipe for her take on the breakfast pastry which uses "rye flour for its mild, maltlike overtones, which lend greater depth without overpowering the cream". Author Charlotte Druckman recommends pairing the scone with Ristretto's Cowboy Blend with "notes of orange and caramel" that "play off the scone's tart cherries".
In addition to the Boyce shout-out, two hometown chocolate makers got the glamour-girl treatment in the March issue. Portland's Xocolatl de David and Cocanú were listed as two of "the most original, creative, and delicious sweets on the planet". You can see the full list here.
Xocolatl de David's David Briggs is no stranger to BA love—last October restaurant editor Andrew Knowlton tipped his hat to the chocolate maker's Raleigh candy bars. Knowlton swoons over the bar's "bites of honey-pecan-chocolate nougat topped with bourbon caramel and covered in dark chocolate", calling it "the best chocolate candy [he's] had."
Cocanú's Sebastian Cisneros has also been swimming in juicy press as of late, with a nod in the Wall Street Journal and another mention in Time Magazine's Food and Drink section exploring the health benefits of chocolate (According the to article, "Cocanu infuses its Holy Wood bars with aromatic palo santo wood from Ecuador, beloved by Amazonian shamans for its cleansing properties").
With all the coffee and cocoa love for Portland, who knows, we may nab the "Beantown" moniker away from our Top Chef rival.