FEEL GOOD FOODIES
PDX Restaurants Spring for Zenger Farm
Beginning March 11th, top local restaurants will be donating a portion of their sales to Zenger Farm, Portland's only non-profit teaching farm.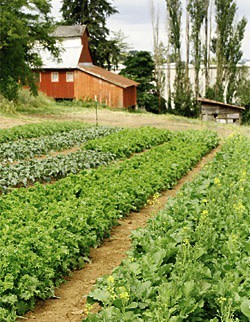 With the looming promise of Spring—really, it's coming—it's a great time to turn our attention to the farms and farmers that make our incredible food scene possible. One such purveyor of pristine produce (along with a healthy serving of education) is Zenger Farm, Portland's largest nonprofit teaching farm located on Southeast Foster Road.
Almost a century ago, the land that is now Zenger Farm was home to Mount Scott Dairy, owned by Ulrich Zenger. The son of that dedicated Swiss dairy farmer, Ulrich Zenger Jr. inherited the fertile land and devoted his life to preserving his family land in the face of Portland's rapid commercial and residential growth.
After Zenger Jr.'s passing in 1994, the land was purchased by the City of Portland's Bureau of Environmental Services, which understood the priceless value of an urban wetlands and watershed. Since 1999, Zenger has served as a non-profit teaching farm and open-air classroom, offering farm-based summer camps, kids cooking classes, community events, and hands-on experience for farmers as well as students of agriculture and sustainable food systems.
To make sure Zenger remains a thriving think tank for advancements in local agriculture, restaurants and businesses around Portland are pitching in for the Spring for Zenger Fundraiser throughout the month of March, and you can lend a hand (and a dollar).
Starting March 11th, participating businesses will donate a portions of their proceeds to Zenger Farm's fundraising initiative, Spring for Zenger.
Want to pitch in? Simply stop into these popular eateries and small businesses on specific days throughout the week:
Sunday, March 11 at The Bent Brick (1639 NW Marshall St.)
Monday, March 12 at Pine State Biscuits (two locations: 3640 SE Belmont St. and 2204 NE Alberta St.)
Tuesday, March 13 at The Woodsman Tavern (4537 SE Division St.)
Wednesday, March 14 at Ned Ludd (3925 NE MLK Jr Blvd), Lincoln Restaurant (3808 N Williams Ave. #127), and Naomi's Organic Farm Supply at People's Co-op Farmers Market (3029 SE 21st Ave.).
Thursday, March 15 at Biwa (215 SE 9th Ave.)
Friday, March 16 at Grand Central Baking (all locations) and Portland Nursery (two locations: 5050 SE Stark St. and 9000 SE Division St.)
Saturday, March 17 at Tastebud or Bingo Sandwich on the opening day of the Portland Farmers Market at PSU, Concentrates (5505 SE International Way, Milwaukie)
Sunday, March 18 at Stumptown Coffee Roasters (all Portland locations)
Monday, March 19 at Bob's Red Mill (5000 SE International Way, Milwaukie)
Tuesday, March 20 – Thursday, March 22 at Sunshine Tavern (3111 SE Division St.)
For more information about the farm and the Spring for Zenger fundraiser, head to the Zenger Farm website or call 503-282-4245.