Mixology 101
Son of Super Bowl Cocktails
Serious drinks from B & F's Brandon Wise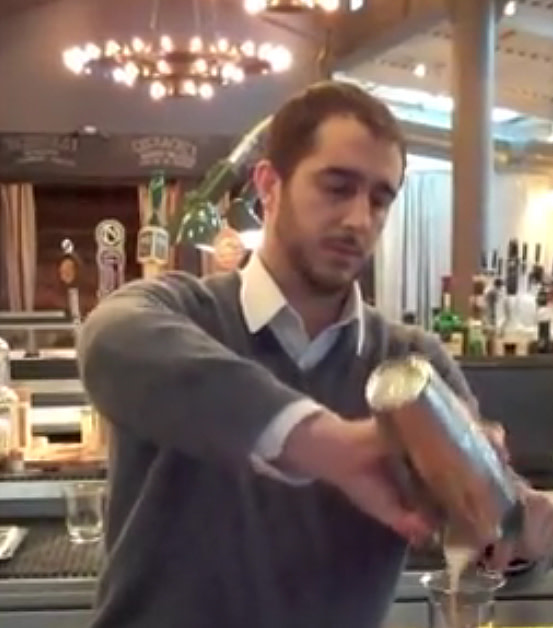 As promised, we're back with more scintillating cocktail ideas that should make your Super Bowl Party the social event of the season. Beaker & Flask barman Brandon Wise responded to my request for recipes by sending me a nifty half-dozen. Six points! Please note: these drinks require some fairly fancy pants ingredients, so a trip to a high-end liquor store is likely in your immediate future. Hey, do you want the party to be a hit, or a bust?
Wounded Duck
"Smoky, savory, and all kinds of amazing. Sort of an old-fashioned meets a manhattan cocktail with a little culinary flair, this is what Don Draper would drink after a successful hunting trip," opines Wise. "Trust me, there is no better pairing with beef jerky known to man."
2 oz duck fat-washed rye whiskey
½ oz hickory infused punt e mes Italian vermouth
barspoon maple syrup
2 dashes angostura bitters
1 dash orange bitters
Build ingredients in mixing glass, add ice and stir short for about 5 seconds. Strain into bucket glass over large ice cube(s). Garnish with a cherry and/or orange zest if you're feeling fancy.
Fat-washed rye: Start with ¾ of a bottle of Old Overholt rye and fill the rest of the bottle with rendered duck fat while still hot. Cap and place in freezer for 4-6 hours. Remove from freezer and strain at least twice through cheese cloth until all solid fat has been removed. Voila, savory rye whiskey!
Hickory Vermouth: drop a handful of applewood & hickory chips (I make sure to rinse them well with boiling water first) into a bottle of vermouth or put both in new sealed container. Cap and keep in refrigerator overnight (or until it takes on the desired hickory flavor/aroma). Strain twice through cheese cloth and place in fresh bottle.
Zanhorita
"Jack LaLanne must've been onto something when he preached the gospel of fresh juices on his info-mercials. He did live to be 170 after all," Wise says. "This margarita variation takes freshly juiced carrot and tequila and finds a magical harmony that is as delicious as it is dynamic. You know you have one of his juicers in your kitchen cabinet, now you finally have a use for it!"
1.5 oz Reposado Tequila
¾ oz Cointreau
¾ oz lime juice
¾ oz cilantro simple syrup
1 fresh carrot (juiced)
Juice carrot Jack LaLanne style, and build all liquid ingredients in a mixing tin. Add ice, shake, and strain into a well iced, salt-rimmed bucket glass. Garnish with pinch of cumin over the top of the cocktail.
Bone Luge
"A distinctly Portland phenomenon that is catching fire all over the nation and, along with Laurelhurst Market, Beaker and Flask was amongst the first to entertain this ridiculous drinking trend," Wise explains. "Bone marrow being a delicacy all its own, once the marrow has been devoured from the bone you can use it like a liquor luge. It's easy: just pour a shot of whiskey down the channel of the bone straight into your face. Hooray for booze, and hooray for meat! Check out boneluge.com to see what it's all about."
B. Wise Red Beer
"Let's face it: drinking cheap beer gets old fast," Wise says. "Why not spice it up a little at halftime with this zesty Red Beer recipe? Sure, you can buy some pre-mixed bloody mary mix at the store OR you could try making your own with a bit more zing to it. Here's a simple recipe."
1 Can of Cheap beer (PBR or Miller High Life work great)
4 oz bloody mary mix (see recipe below)
Pour into Salt & pepper rimmed pint glass & enjoy
Bloody Mary Base
3 LARGE (46oz) Tomato juice cans
16 oz lemon juice
16 tbl horseradish (microplaned)
4 tsp salt
4 tsp ground pepper
4 tsp celery salt
4 oz sherry vinegar
8 oz worstershire
16 dashes cayenne pepper
8 tsp Tabasco
Grounded for Life
"What pairs better with nachos and 7-layer bean dip than a cocktail that's a little spicy, a little savory, and a lot refreshing?" Wise gushes. "Not only delicious but also healthful, this cocktail takes the idea of bloody marys and day drinking to a whole new level of awesome."
1.5 oz Mazima pepper vodka
¾ oz lime juice
¾ oz celery juice
½ oz triple sec
½ oz simple syrup
Dash of Fee's celery bitters
Salt rim
Shake and strain into salted coupe or margarita glass.
Jimmy Scaffa
"Scaffa (I believe) translates roughly to 'Cabinet' in English, referring to reaching into your cupboards and using whatever ingredients you have laying around the house," Wise notes. "The brilliance of a scaffa is that it's a style of drink that is typically built in a glass without being shaken, strained, or adulterated. Here's a quick fix that appeals to wine drinkers and cocktail fans alike and will go great with that shrimp cocktail you've carefully set out for your guests."
4 parts Banks 5 Island Rum
4 parts Barolo Chinato (I like G.D. Vajra)
2 parts Battavia Arrack
1 part Maraschino liqueur
Dash orange bitters
Build ingredients in wine glass or whatever you have at the house, no mixing/shaking/stirring required. Most good liquor stores (like Pearl Specialty in NW PDX) have all of these ingredients and they're a lot of fun to mix with at home.