MENU WATCH
The New Power Lunch
We've got the scoop on new lunch menus around town, including the reinvention of Clyde Common daytime offerings and lunch hours at Oven & Shaker.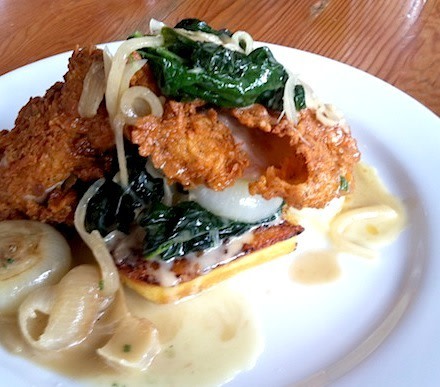 Clyde Common may be connected to the lobby of the Ace Hotel, but as any Portlander will tell you, the hip restaurant and bar is miles above most "hotel restaurants" around the country (1014 Southwest Stark Street; 503-228-3333; clydecommon.com).
Chef Chris DiMinno's approach to inventive whole-animal and farm-fresh veg cuisine has powered the Clyde kitchen since 2009, but lunch offerings at the SW Stark eatery had been limited to quality sandwiches and sides—albeit with some killer fries. That daytime-casual approach was flipped on its head recently when the Clyde Common team relaunched their lunch menu to reflect the restaurant's true culinary focus.
According to owner Nate Tilden, Clyde's lunch "drew a lot of visitors to Portland—people staying at The Ace—who came into the eatery because they'd heard great things in the press and from friends. With so many dinner options to choose from, folks would often come in just for lunch, order a sandwich, and wonder what the hype was about. This new menu gives everyone a bite of the whole Clyde experience, any time of day."
The best dish on the new small bites and entrees menu? The batter-fried rabbit with braised greens, cipollini onions, and sweet cornbread (pictured above, $15). This decadent dish is like chicken and waffles with super powers—the deliciously moist rabbit is coated in a crispy batter that rivals the best guilty-pleasure chicken-in-a-bucket, set on top of a seared slice of sweet cornbread, and drenched in a creamy sauce that puts the whole thing over the edge into crave-worthy territory. Other standouts include the roasted beet salad with shaved ricotta salata, pistachios, and yogurt ($5 sm/$9 lg) and the roasted cauliflower with fragrantly spicy Calabrian chili and oil-poached garlic ($5).
Fans of the Clyde sandwich selection, have no fear. The menu boasts a selection of a la carte sammies like the grilled Anaheim chile and cheddar grilled cheese with ham ($8), roast steak sandwich with Gruyere ($8), and the Clyde hamburger with those previously mentioned killer fries ($12). The new lunch menu will be offered weekdays from 11:30 am to 3 pm.
Are we seeing a new trend of full-scale menu offerings at lunch time? In a city where upscale-casual options for weekday lunch can be limited, Clyde's new approach is a welcome shake-up, and the lunchtime success of Little Bird and Grüner certainly proves there's an audience. Portland restaurants aren't just great for date night or after-work happy hours—they should be go-to joints for business lunches, daytime visitor itineraries, and those days when braving the elements for a food cart meal just doesn't appeal.
---
In other lunch news, Cathy Whims' new Pearl District hot spot Oven & Shaker will be offering a daily lunch starting at 11:30 am (1134 NW Everett Street; 503-241-1600; ovenandshaker.com).
In addition to the wood-fired pizzas, hot soups, and seasonal salads of the dinner menu, the sexy space will serve several varieties of Puccia—a Puglia-style pocket bread stuffed with tasty fillings. Current Puccia options include pork meatballs with tomato butter and arugula salad, honey-roasted turkey with salsa rossa and mache, and basil eggplant with mozzarella and arugula.
With the launch of the new lunch menu, Oven & Shaker's new hours are 11:30 to midnight, seven days a week.