Mark Your Calendar
Upright Brewing's Oyster Stout Release
Popular brew gets a truffle upgrade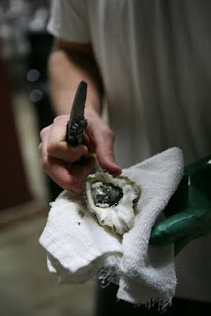 Not that Oregonians—and Portlanders in particular—really need incentive to head to the nearest pub and down tasty beers in good company, but if you do, then consider this your cattle prod. To celebrate the release of its 2012 Oyster Stout, Upright Brewing is sending a special, won't-last-long, truffle-packed firkin over to Grain & Gristle, for your sampling pleasure.
For those of us not conversant in old English units of volume, a firkin holds the equivalent of 72 pints … minus the space occupied by half a pound of Oregon black truffles, of course. That should make for plenty of thick, black, frothy-headed pours, with chocolate notes, roasted malt flavors, and a briny finish. The latter comes courtesy of the Hama Hama oysters used in the brewing process by Upright's head brewer Alex Ganum (also a Grain & Gristle founder) in partnership with Jason McAdam of Burnside Brewing.
Festivities are planned between noon and 11:30 PM on Thursday, though last year's epic tapping party lasted into the wee small hours and on through the next day. Bottles go on sale in the Upright tasting room on Friday and should make shop appearances around the same time.