Mixology 101
Love on the Rocks
Portland mixologists reveal swoon-worthy romantic concoctions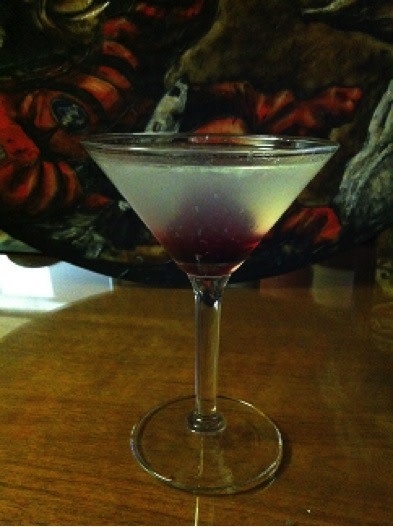 Yes, you can make a feeble attempt at creating romantic atmosphere with cut-out Cupids and Mylar balloons, but a properly mixed drink is absolutely essential for lowering inhibitions and casting aside discretion. Why, Valentine-themed cocktails even double as tear catchers, and are just as effective when guzzled with friends or alone with your pet! Whether you're toasting to independence, codependence, or true romance, every sip of these lovely libations d'amour will leave your taste buds luxuriating in ecstasy!
The Secret Society
Mixologist Matt Johnson presents "the perfect lover in a glass" that's plentiful with libido loosening bubbles. The Origin of Love is subtly sweet and earthy, with a surprising tart side.
The Origin of Love
1 oz St. Germaine elderflower liqueur
¼ oz grenadine
champagne
lime twist
Pour St. Germaine into a champagne flute, and top with champagne. Add grenadine slowly and carefully into the center of the glass. The grenadine will sink, creating a hidden nipple at the bottom of the glass. Top with lime twist.
The Gold Dust Meridian
"The Bleeding Heart cocktail is the perfect elixir and is guaranteed to impress that special friend," swear the folks at the Gold Dust Meridian. "The blood orange vodka and hibiscus nectar complement one another just like your partner only can."
Bleeding Heart Cocktail
Muddled Ice and Limes
1½ oz Indio Blood Orange Vodka
¼ oz Luxardo Cherry Liquor
2 dashes Hibiscus Nectar
1 wild hibiscus flower
Start with a pint glass filled with ice and limes. Muddle and add the Blood Orange Vodka and Luxardo Cherry Liquor. Shake, shake, shake! Strain in chilled martini glass. Drop edible hibiscus flower into bottom of glass and drizzle hibiscus nectar. Serve straight up in chilled martini glass.
Tea Zone and Camellia Lounge
A Camilla Tea Lounge bartender tells it like it is: "I don't think there's a person alive who would say no to this drink. It's fruity and floral without being overpowering."
Be My #1 Fun
1 oz white plum berry tea
1 oz black currant vodka tea
Hibiscus
Simple syrup
Fresh muddled lemon
Shaken with ice, served up!
Looking for something a little less … pink? Try the Handsome Ransom, a cocktail recipe from Coppia.
Handsome Ransom
1 ½ oz Ransom Old Tom gin
½ oz Luli vino chinato (aromatized wine)
¼ oz Dolin sweet vermouth
Combine ingredients in a mixing glass, shake well, and serve on the rocks in a tumbler. Garnish with an orange twist.