HOMETOWN PRIDE
Video Crush: The American Beer Revival
Check out this info-packed little video that spells out the history (and future) of the American craft beer industry, with a special shout-out to the perks of being an Oregonian with a pint glass.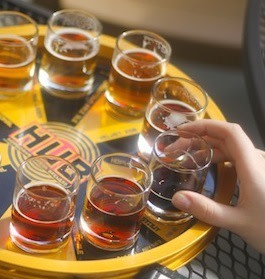 While it's no shock to anyone in Portland that the craft beer business has exploded in the past few years, it's pretty awesome to see that the growth is not confined to our neck of the bottle. For the first time since the pre-Prohibition Belle Époque of Beer, the number of craft brewers in America has passed 1,750 (and that number is swiftly growing).
Here in P-town, our beer fanaticism is reaching new heights as well, what with food carts around town lobbying for licenses to pour and new eateries brewing up their own suds to pair with the locally-grown goods on their menus.
Though it's pretty easy to see that the industry in booming—just drive down any major street in the city and look out for bearded dudes unveiling their shiny new brewing tanks—it's sometimes helpful to see the facts spelled out in attractive animated typography. I stumbled upon this great infographic-fueled visual.ly clip that spells out just how big the American craft beer bubble has grown, so check it out for yourself.
Local pride bonus: watch out for the reason that Oregonians are "spoiled" when it comes to our local tap list.