MENU WATCH
Brunch at Southpark Seafood
The latest addition to Downtown's weekend brunch offerings blends comfort food with the catch of the day.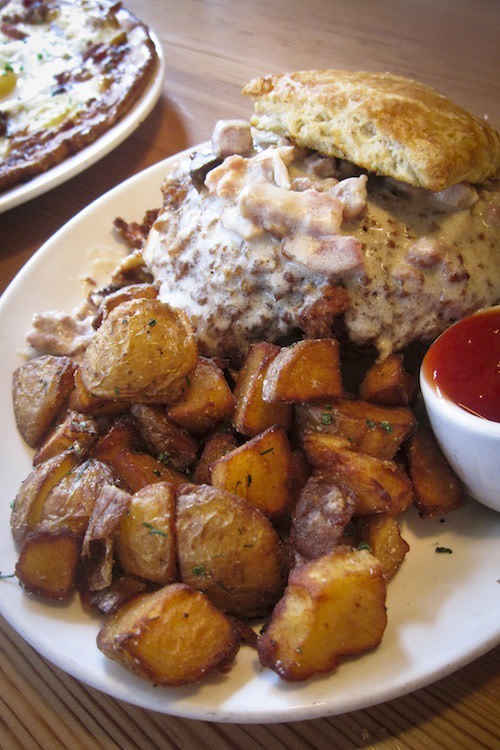 Downtown seafood restaurant Southpark may be best known for the giant fish busting out of the building's brick exterior, but starting this month it should also be known as a great spot for weekend brunch.
The eatery has launched its Saturday and Sunday brunch with an emphasis on the savory side of the morning meal. Every weekend from 9 am to 3 pm, the spacious eatery will open its doors to hungry Portlanders and visitors alike looking for brunch fueled by seafood dishes and classic a.m. favorites.
Chef Broc Willis has crafted a solid menu with dishes like the mammoth fried chicken sandwich—deliciously moist on the inside, peppery with a solid crunch on the outside—on a flaky biscuit smothered in sausage gravy, a oven-fired breakfast pizza with bacon, yukon gold potatoes, and eggs, and a house-cured pork pastrami or house-smoked salmon hash. Pastry chef Bob Hopkins is also whipping up crave-worthy breakfast pastries like sour cream blueberry coffee cake and oatmeal scones with blood orange curd.
Fans of the restaurant's seafood offerings won't be disappointed, with oysters on the half shell, calamari with spicy aioli, Dungeness crab cakes, Bouillabaisse, and a rotating fresh catch available on the a.m. menu—a true rarity in Portland, despite our proximity to the seafood smorgasbords that are the Pacific Ocean and Columbia River.
On the liquid side of things, the bar is offering a few Champagne cocktails like the Elderflower with St. Germaine and orange or the Hemingway with Pernod and lemon in addition to a cucumber gin Bloody Mary made with San Marzano tomatoes.
Check out the full menu of affordable house-made brunch specialties here and stop in to try the menu after "opening day of the farmers' market" for a full morning of fresh eats and drinks in the heart of downtown.
901 SW Salmon St. 503-326-1300