Entertaining
Carrot Cake to Celebrate College Hoops
Transforming March muddiness into March Madness and an excuse for a party.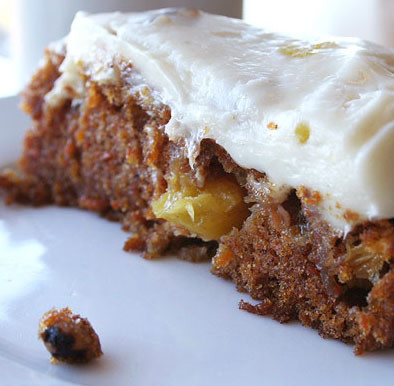 According to the local weather wizards, March 2012 has already doused us with nearly as much rain as the entire month would in an average year. Faced with such a soggy situation, why not transform March muddiness into a celebration – of March Madness, of course.
March Madness is, as you may have noticed, the nickname given to the annual extravaganza of NCAA men's college basketball. It's endlessly hyped or extremely exciting, depending on your view of the game invented by James Naismith in 1891 at a YMCA in Springfield, Massachusetts.
Young men (and women, though they get less attention) running around on a 94' long hardwood floor, sneakers squeaking as they bounce, pass and toss an orange ball at each other and into (they hope) a raised metal hoop strung with white woven string. Who wouldn't watch such a spectacle for hours on end in the latter half of a rainy March in Portland?
Some of the men's first round games were held at our Rose Garden Arena. Those teams have since left town, so perhaps our current closest local connection is to the Kentucky Wildcats; that highly ranked team boasts two players from the Portland Metro area, sophomore starter (and star) Terrence Jones, from Jefferson High, and Kyle Wiltjer, freshman from Jesuit. Both are 6'-9", so you'll probably notice if you see them around town this summer.
No matter who is playing, my response (besides filling out my bracket and sitting on the edge of my sofa for days on end) is: make carrot cake! Honor the game of the orange ball by celebrating the orange vegetable. Go wild with orange icing and basketball themed decorations. Of course, there are other ways to celebrate, but the point is to make the muddy month into an excuse for a party.
Invite friends over to watch (or ignore) the game on TV. Games continue next weekend, with the final four games the last weekend of March, so you have plenty of party dates to choose from.
Have a pot luck and ask everyone to share a dish related (however marginally) to March Madness. Maybe it's a regional connection (where are the teams from? Are they local, or from your hometown?). Maybe it's based on mascots (the Billikens of St. Louis University were my favorite, but they lost this past weekend; did you know that a billiken is a doll purported to have magic powers?). Team colors can be the connection – who wouldn't want to create a dish based on the pale blue of powerhouse North Carolina's Tar Heels? Yummm.
That said, let your imagination go wild. But for dessert, you can't top this classic carrot cake recipe adapted from The Joy of Cooking. It's ultra moist, spicy and delicious.
Carrot Cake
Preheat oven to 350 degrees F. Have all ingredients at room temperature. Grease and flour two 9 × 2 inch round pans or two 8 × 8-inch pans or one 13 × 9-inch pan or line the bottom(s) with wax or parchment paper.
Whisk together thoroughly in a large bowl:
1 1/3 cups all-purpose flour
1 cup sugar
1 ½ teaspoons baking soda
1 teaspoon baking powder
1 teaspoon ground cinnamon
½ teaspoon ground cloves
½ teaspoon freshly grated or ground nutmeg
½ teaspoon ground allspice
½ teaspoon salt
Add and stir together well with a rubber spatula or beat on low speed:
2/3 cup vegetable oil
3 large eggs
Stir in:
1 ½ cups finely grated peeled carrots
1 cup finely chopped walnuts
1 cup golden raisins (optional)
½ cup crushed pineapple, lightly drained (optional)
Scrape the batter into the pan(s) and spread evenly. Bake until a toothpick inserted into the center comes out clean, 25 to 30 minutes in round or square pans, 30 to 35 minutes in a 13 × 9-inch pan. Let cool in the pan(s) on a rack for 10 minutes. Slide a thin knife around the cake to detach it from the pan(s). Invert the cake and peel off the paper liner(s), if using. Let cool right side up on the rack.
Fill and frost with icing:
Cream Cheese Frosting (orange food coloring optional but recommended!)
In a medium bowl, beat just until blended (do not overbeat):
8 ounces cream cheese (cold, not room temp)
5 tablespoons unsalted butter (best at room temp) – optional
2 teaspoons vanilla
Add one third at a time and beat just until smooth and the desired consistency:
2 to 2 ½ cups powdered sugar, sifted
If the frosting is too stiff, beat for a few seconds longer. Do not overbeat. If desired, stir in additional flavoring to taste, such as grated lemon or orange zest, ground cinnamon, or liquer of choice. But most of all, don't forget the bright orange food coloring so the cake looks like a basketball!