NEIGHBORHOOD NEWS
Eat Beat Neighborhood News
Top food news stories from around Portland, including new hours and cocktails at Double Dragon and the debut of ramen for dinner at Boke Bowl.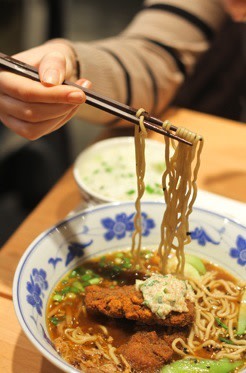 Southeast
SE Water Avenue: Starting March 15th, hot spot Boke Bowl will offer its full menu in addition to Korean fried chicken during its one-night-a-week dinner service. Each Thursday from 5 to 9:30 pm, diners will be able to order ramen, chicken, and all the fixin's for dine in or take out at 1028 SE Water Avenue.
SE Division: Rob Walls' banh mi eatery Double Dragon has new hours, and will now be open Sunday through Thursday 11 am to 3 pm; Friday and Saturday 11 am to 10 pm. The restaurant is also debuting a small cocktail list featuring drinks from top Portland shaker Dave Shenaut, including the Double Dragon Punch and Saigon Sweet Tea (Foxfire tea, thai basil, lemongrass, sweetened condensed milk, and House Spirits Distillery's Coffee Liqueur).
SE Hawthorne: Micah Camden and Katie Poppe have released the first details of their new sushi-only eatery at 20th and Hawthorne, dubbed Boxer. The spot is slated for an April opening and will tap the talents of chef Ian Skomski, formerly of Yakuza.
SE Ankeny: Italian restaurant Il Piatto will close this March 18, to reopen as the Slide Inn, a German/American eatery from Il Piatto's owners Eugen and Lenore Bingham. According to Eater, the Slide Inn will serve "Sauerbraten, sausages and apple strudel" along with American comfort food.
Northeast
East Burnside: Burnside Brewing Co. has a new chef—Nate Yovu—who in addition to top-notch culinary resume (including Café Grey, Fleur de Sel and Dovetail in NYC) carries a degree from the American Brewers Guild. His new "more approachable and beer centric" menu will debut in a few weeks.
Southwest
SW 6th: At Sunday's Cochon 555 event at The Original downtown, Beast's Naomi Pomeroy won the competition celebrating heritage breed pigs, and will represent Portland in the Grand Cochon this June in Aspen.
Northwest
NW 11th: There's another shakeup to report in the Metrovino kitchen: Chef Victor Deras has been replaced by his sous chef Dustin See, according to owner Todd Steele. Deras was promoted to head chef to fill the space left by Greg Denton and Gabrielle Quiñonez Denton, who will be opening their restaurant Ox in April.
NW 23rd: The New Old Lompoc brewpub will close its doors on April 28 after decades of good times (read more over at The Oregonian). The remaining four Lompoc pubs will remain open.
The 'Burbs
Washougal: Portland's Amnesia Brewing will be expanding to downtown Washougal, Washington this year. According to The Oregonian, owner and brewer Kevin King is building out a 5,500-square-foot space at 1834 Main St. for a 50-seat brewpub and 15-barrel brewery (the later of which will allow Amnesia to sell its beers in cans and bottles for the first time).
Got a food news tip? Send it my way at [email protected]!