NEIGHBORHOOD NEWS
Eat Beat Neighborhood News
Top food news stories from around Portland, including new lunch offerings from Saint Cupcake, a pastry chef shuffle at Milwaukee Kitchen and Wine, and details about the upcoming Tabor Tavern.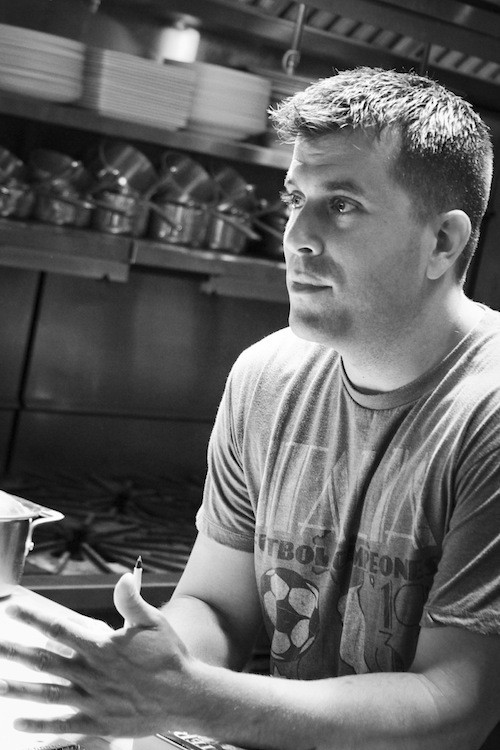 Southeast
SE Division: Wafu's Trent Pierce is looking to reenter the Portland seafood scene (which he helped solidify with his short-lived but celebrated restaurant Fin, which shuttered in early 2011) and is reportedly scouting for locations in Downtown Portland. Pierce's new as-yet-unamed project will be backed by investor Ben Blank. Want a sneak peak of the new eatery's menu? Beginning April 12, Pierce will host a monthly dinner featuring recipes that will likely reappear at his new eatery. debuting a monthly dinner series featuring recipes meant for the new restaurant. Call Wafu at 503-236-0205 for more information.
SE 82nd: In a landmark move, the Oregon Liquor License Commission has granted a food cart pod a liquor license. The pod, SE 82nd's Cartlandia, will soon sell beer and wine from a stationary food cart in a roped-off, adults-only area. More information over at our sister blog, Bar Pilot.
Northeast
NE Prescott: The owner of North Killingsworth's Hop & Vine, Yetta Vorobik, will be opening a new bottleshop on NE Prescott in the cluster of eat-and-drink establishments that includes Extracto Roasters, Grain & Gristle, Pok Pok Noi, and Tiga Bar. According to Eater the as-yet-unnamed second shop will be set up for to-go bottle purchases with limited seating.
E Burnside: Lompoc Brewing manager Ken "Zig" Naffziger and Lompoc head brewer Bryan Keilty will debut a new eatery dubbed Tabor Tavern in the former Bangkok Restaurant space at 5325 E Burnside St. The project will offer pub fare like lager-steamed mussels and Waygu-fat French fries, and is slated to open mid-May.
Southwest
SW Morrison: Downtown's Saint Cupcake is now offering grab-n-go sandwiches and salads during weekday lunch in addition to their cupcake lineup. The sandwiches will feature baguettes from Grand Central bakery, and all fillings, spreads and condiments will be made in-house. Current offerings include ham and brie with housemade cherry-apple butter, smoked turkey and cheddar with cranberry apple chutney, roasted tomato jam and goat cheese with greens, and spiced chickpeas with cucumber and tomato jam. For more information, check out the Saint Cupcake blog.
W Burnside: Westside Thai restaurant Soi 9 will now be offering Sunday brunch from 10:30 am to 3 pm. The menu will be a mash-up of Thai and American breakfast dishes Sunday brunch service. The menu features a combination of traditional Thai and American dishes like rice porridge and fried eggs with Thai sausage.
'Burbs
Milwaukie: Milwaukie Kitchen & Wine's temporary pastry chef Kir Jensen has left the neighborhood hot spot and has been replaced by Jocelyn Barda, co-founder and former co-owner of Bakery Bar. Jensen helped launch the eatery's pastry program and will now prepare to reopen her lauded food cart The Sugar Cube in early May.
National Attention:
The New York Times: Profiled the best of Oregon chardonnay, highlighting the 2009 Reserve Chardonnay from Lemelson and the 2007 Evening Land White Sun Vintners Chardonnay as the best of the bunch. A few Oregon favorites were also highlighted as great values, including Patricia Green's Four Winds Chardonnay 2008, King Estate's Signature Collection Chardonnay 2010, and Stoller Vineyards' Ian's Reserve Chardonnay 2008. According to wine writer Eric Asimov, these Oregon wines are "not California chardonnays, nor are they Burgundies. They go their own way, very successfully." Check out the full article here.
Got a food news tip? Send it my way at [email protected]!