FOOD AND DRINK EVENTS
Eat Beat Weekly Planner
Our digest of Portland's top upcoming food and drink events, including Pasta and Pinot with Apolloni Vineyards at Lincoln and Upright Brewing's Third Anniversary Party.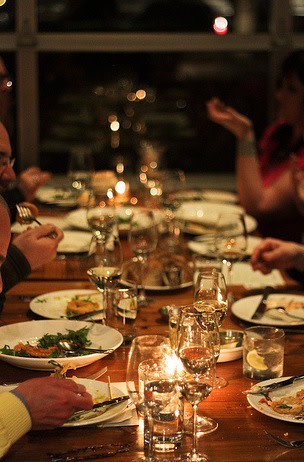 Cana's Feast Pairing Dinner at Otto
What: A wine pairing dinner featuring dishes from chef Mark Dunleavy of Tabla and wines from Cana's Feast. The five-course feast is set to include grilled radicchio with pine nuts and marscapone, sunchoke gnocchi with apples and roasted garlic, grilled sturgeon, and braised short ribs.
When: Wednesday, March 21st at 5 pm
Where: Otto 1852 SE Hawthorne Blvd
How Much: $45 per person including food, cocktails, and wine.For reservations call 503-517-7770.
Pasta and Pinot with Apolloni Vineyards at Lincoln
What: A relaxed and informal four-course meal prepared by chef Jenn Louis paired with Apolloni wines. This annual dinner features hand-crafted pasta dishes alongside new releases and library wines from Apolloni's cellar. As an added bonus, all wines will be available for take-home purchase at exclusive discounts.
When: Wednesday, March 21st at 6:30 pm.
Where: Lincoln Restaurant 3808 North Williams
How Much: $50 per person, including all food and wine pairings. Call 503-288-6200 for reservations.
Whisky + Beer Kaiseki Dinner at Departure
What: A four-course beer, bourbon, and whisky pairing dinner highlighting the foods that go best with some of Portland's favorite beverages. The dinner will make the most of Departure's traditional Kushiyaki Grill, and dishes are set to include grilled smoked salmon with soy caramel and sweet potato hash paired with Four Roses Bourbon and Stella Artois, mussels in spiced coconut broth with grilled Thai sausage paired with Red Breast Whisky and Hitachino Nest White Ale, vanilla and chili glazed pork tenderloin with tamarind-ginger chutney paired with Blanton's Bourbon and Sapporo, and a ginger and salted pecan tart with maple-bourbon ice cream paired with Black Maple Hills Bourbon and Ninkasi Oatmeal Stout.
When: Monday, March 19th through Saturday, March 24th
Where: Departure 525 Southwest Morrison Street
How Much: $65 per person including four courses, beer, and whisky. For reservations, call 503-802-5370.
Olympic Provisions Tuscan Wine Dinner
What: A five-course meal celebrating Italian flavors from the kitchen of Chef Alex Yoder and Tuscan wines selected by wine director Star Black. Dishes are set to include a charcuterie board with Finocchiona salami, Pecorino Tuscano, chicken liver pate, and toasted Tuscan bread; Dandelion greens with chicories, shaved fennel, pecorino, and anchovies; Ribollita; and beef cheeks braised in Chianti over a bed of yellow potato puree.
When: Sunday, March 25th at 6 pm
Where: Olympic Provisions Southeast 107 SE Washington
How Much: $55 dinner (additional $40 for optional wine pairings). For reservations, email [email protected] or call 503-954-3663.
Upright Brewing's Third Anniversary Party
What: Join Owner/Brewer Alex Ganum to celebrate Upright Brewing's third anniversary with the release of the new seasonal beer, Blend Love. This exciting brew combines sour cherry Four and raspberry Six for a flavorful, fruity sour ale named after fellow Portland brewer Ben Love. Other exciting beers will also be on tap all day long.
When: Friday, March 30th from 4:30 to 9 pm
Where: Upright Brewing 240 N. Broadway Suite 002
How Much: Blend Love will be available on tap along with 750ml bottles for sale at $12 and $125 a case (limit one case per person).
"Supper in the Spirit" at Skin & Bones with House Spirits
What: An intimate, five-course meal featuring pairings from Portland's House Spirits. Check out the Skin & Bones website for event updates and menu details or call 503-236?3610 for more information.
When: Thursday, April 5th at 6:30 pm
Where: Skin & Bones Bistro 5425 E Burn­side
How Much: $65 per person, including all food and spirit pairings (additional drink menu available). Reserve your spot online.
The Gamechanger Benefit at Scott Paul

PDX
What: An evening of appetizers from Pascal Sauton of Milwaukie Kitchen & Wine, great wine from Scott Paul, and auction for a great cause. The fundraiser event is a collaboration between Tom De Blasis, Design Innovation Director for the Nike Foundation, Scott Paul Wines, and Waves 4 Water. Proceeds from the event will buy 75 Nike Gamechanger Buckets that deliver access to clean water to developing communities around the world.
When: Saturday, April 14th, from 5 to 8 pm.
Where: Scott Paul PDX, 2537 NW Upshur Street
How Much: $50 per person, including all wine and food. For reservations, call 503-319-5827.
Know about a great event coming up that should be on our radar? Shoot me an email at [email protected] or give me a shout over on Twitter at @allisonejones. Now get out there and start eating!