FOOD AND DRINK EVENTS
Eat Beat Weekly Planner
Our digest of Portland's top upcoming food and drink events, including the Northwest Cider Association's Cidermakers Dinner at clarklewis and a Build Your Own Bitters class at The Meadow.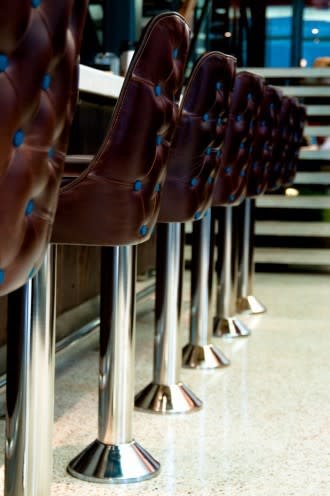 The Traveling Spirits Show at The Original
What: A meet-and-greet with the producers of craft spirits from Bull Run Distillery, New Deal Distillery, Big Bottom Whiskey, and Stone Barn Brandyworks, featuring cocktails from bartenders Dr. Watson of The Original and Tommy Klus of KASK.
When: Wednesday, March 28th from 4:30 to 7:30 pm
Where: The Original 300 SW 6th Ave. Portland
How Much: $7 per cocktail.
Build Your Own Bitters at The Meadow
What: A hands-on class that will dive into the exotic world of bitters, exploring how bitters bring balance and depth of flavor to everything from cocktails to dessert. Guests will taste over a dozen aromatic ingredients and be guided in the creation of their own concoctions to bring home.
When: Wednesday, April 4th from 7:30 to 9 pm
Where: The Meadow 3731 North Mississippi Ave
How Much: $45 per person (21+ only). Order on The Meadow website.
Northwest Cider Association Cidermaker's Dinner at clarklewis
What: A gathering of the best craft cider producers in the Northwest, with pairings from clarklewis chef Dolan Lane. Guests will sample ciders from 2 Towns Ciderhouse, Blue Mountain Cider, Carlton Cyderworks, Finnriver Farm & Cidery, Snowdrift Cider Co., Wandering Aengus Ciderworks and many more, as well as gather an insider's education about heirloom apple orchards and the craft cider process.
When: Wednesday, April 4 from 6 to 10 pm
Where: clarklewis 1001 SE Water Avenue
How Much: $80 for members of the Northwest Cider Association and $85 for non-members. Click here for tickets, and visit the NCA website for more information.
Upright Brewing Pairing Dinner at Castagna
What: Join Alex Ganum of Upright Brewing and Chef Justin Woodward of Castagna for a four-course modern menu paired with Upright brews, including limited release seasonal beers (and a special treat for dessert). Dishes are set to include cauliflower "in various textures" with oyster, horseradish and oxalis, citrus-cured sturgeon with cream cheese, aquavit and radishes, rib eye with smashed beets, charred onions and wild chives, and meyer lemon curd with green juniper meringue and hefeweizen.
When: Wednesday, April 4th at 6:30 pm
Where: Castagna 1752 SE Hawthorne Boulevard
How Much: $75, including all food, beer, and gratuity. For reservations, call the restaurant at 503-231-7373.
Leonetti Wines And Grass-Fed Beef Dinner at Urban Farmer
What: A five-course meal prepared by Chef Matt Christianson featuring grass-fed beef from Leonetti's Lostine Cattle Company, paired with lauded Leonetti Wines. Chris Figgins, head wine maker and owner of Leonetti Cellars, will be on hand to answer questions, and dishes will include veal brest with green grapes and vanilla butter, veal meatballs with hand-tied farfalle pasta, braised beef short rib with cedar-smoked potatoes, and much more.
When: Thursday, April 5th at 7 pm
Where: Urban Farmer 525 Southwest Morrison St
How Much: $150 per person. For reservations, call Urban Farmer at 503-802-4900.
"Supper in the Spirit" at Skin & Bones with House Spirits
What: An intimate, five-course meal featuring pairings from Portland's House Spirits. Check out the Skin & Bones website for event updates and menu details or call 503-236?3610 for more information.
When: Thursday, April 5th at 6:30 pm
Where: Skin & Bones Bistro 5425 E Burn­side
How Much: $65 per person, including all food and spirit pairings (additional drink menu available). Reserve your spot online.
The Gamechanger Benefit at Scott Paul

PDX
What: An evening of appetizers from Pascal Sauton of Milwaukie Kitchen & Wine, great wine from Scott Paul, and auction for a great cause. The fundraiser event is a collaboration between Tom De Blasis, Design Innovation Director for the Nike Foundation, Scott Paul Wines, and Waves 4 Water. Proceeds from the event will buy 75 Nike Gamechanger Buckets that deliver access to clean water to developing communities around the world.
When: Saturday, April 14th, from 5 to 8 pm.
Where: Scott Paul PDX, 2537 NW Upshur Street
How Much: $50 per person, including all wine and food. For reservations, call 503-319-5827.
Know about a great event coming up that should be on our radar? Shoot me an email at [email protected] or give me a shout over on Twitter at @allisonejones. Now get out there and start eating!