FOOD AND DRINK EVENTS
Eat Beat Weekly Planner
Our digest of Portland's top upcoming food and drink events, including a Portlandia-themed cocktail class and a chance to be the first to dine at Ox.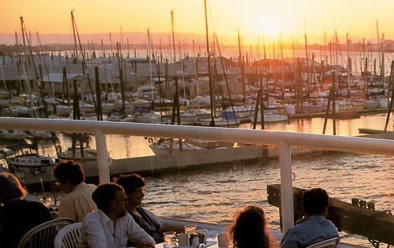 Portlandia Cocktail Class at Salty's on the Columbia
What: A Portlandia-themed cocktail class featuring local spirits from New Deal Vodka, 12 Bridges Gin, and Pendleton Whiskey. Guests will learn how to shake up Salty's Moscow Mule, Cucumber Cure, and Portland Fashioned cocktails. "Hipster attire" encouraged.
When: Saturday, March 10th from 3 to 4 pm
Where: Salty's on the Columbia 3839 Northeast Marine Drive
How Much: $25 including temporary tattoos, class, cocktails, snacks, and a souvenir shot glass. For reservations, call 503-288-4444.
Scott Paul

PDX

Happy Hour with Alexandrine Roy of Domaine Marc Roy in Geverey-Chambertin
What: Meet-and-greet with Alexandrine Roy, 4th generation winemaker of Domaine Marc Roy in the legendary village of Geverey-Chambertin in Burgundy. Guests will taste four 2009 Domaine Marc Roy selections at Scott Paul's new NW Portland tasting room.
When: Wednesday, March 14 from 5 to 7 pm
Where: Scott Paul PDX 2537A NW Upshur St
How Much: $5, refundable with any 3-bottle purchase of the Roy wines.
Biwa's Fifth Birthday Bash
What: A celebration of five years of delicious Japanese-inspired cuisine in Southeast Portland. The famous Biwa Burger will be available all night long, as well as other food specials including Biwa menu favorites from years passed. The restaurant will also be donating 10% of the evening's sales to Zenger Farms in support of their "Spring for Zenger" fundraiser.
When: Thursday, March 15th from 5 pm to Midnight.
Where: Biwa 215 Southeast 9th Avenue
How Much: Food prices vary. For more information, call 503-239-8830.
Double Mountain Brewery Fifth Anniversary Party
What: A free, all-day event featuring reserve Double Mountain beers, St. Patrick's Day food specials, and live music from Meat Puppets, The Quick and Easy Boys, the Resolectrics, and Hood River's own Four on the Floor. Family friendly until 8 pm.
When: Saturday, March 17th (St. Patrick's Day) from Noon to 11 pm.
Where: Double Mountain Brewery & Taproom 8 Fourth Street in Hood River, Oregon
How Much: Free! For more information, visit Double Mountain's website at doublemountainbrewery.com
Breakside Brewing Pairing Dinner at The Bent Brick
What: Three courses (plus appetizers) will be served alongside four beers from Breakside Brewing, including the special Buffalo Trace Bourbon Barrel Aged Ale (a collaboration between Chef Scott Dolich, Bent Brick bar manager Adam Robinson, and Breakside brewing team Sam Barber and Ben Edmunds). Dishes are set to include mussels on the half shell with tobasco mignonette served with Extra Dry Stout, Pork, scrapple, sweet potato, and red eye gravy with Buffalo Trace Bourbon Barrel aged Breakside Brewing Ale, and Xocolatl Churros with malted caramel served with a sourdough ale.
When: Monday, March 19th at 6pm
Where: The Bent Brick 1639 Northwest Marshall Street
How Much: $45 for food and drinks. For reservations, call 503-688-1655
Portland Food Adventures at Ox Restaurant
What: An intimate, mulit-coure advance preview dinner at Greg and Gabrielle Denton's new restaurant OX. The hot culinary couple, formerly of the Pearl District's Metrovino, will be showcasing dishes from their new menu and sharing their favorite places to dine and drink around Portland.
When: Thursday, April 12 at 6:30 pm
Where: Ox Restaurant, 2225 N.E. Martin Luther King Jr. Blvd.
How Much: $125 per person, including food, drinks, gratuity, and gift certificates to the Denton's favorite dining destinations. For more information, head to the PFA website.
Know about a great event coming up that should be on our radar? Shoot me an email at [email protected] or give me a shout over on Twitter at @allisonejones. Now get out there and start eating!