FOOD AND DRINK EVENTS
Eat Beat Weekly Planner
Our digest of Portland's top upcoming food and drink events, including a St. Patrick's Day cooking class at In Good Taste and a wine pairing dinner at Southeast Hawthorne's Otto.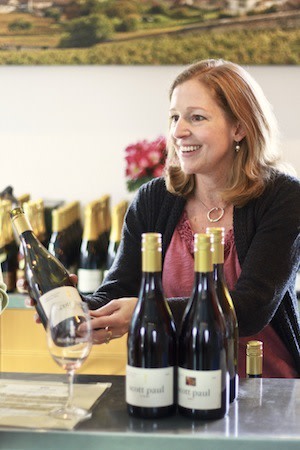 Scott Paul

PDX

Happy Hour with Alexandrine Roy of Domaine Marc Roy in Geverey-Chambertin
What: Meet-and-greet with Alexandrine Roy, 4th generation winemaker of Domaine Marc Roy in the legendary village of Geverey-Chambertin in Burgundy. Guests will taste four 2009 Domaine Marc Roy selections at Scott Paul's new NW Portland tasting room.
When: Wednesday, March 14 from 5 to 7 pm
Where: Scott Paul PDX 2537A NW Upshur St
How Much: $5, refundable with any 3-bottle purchase of the Roy wines.
Biwa's Fifth Birthday Bash
What: A celebration of five years of delicious Japanese-inspired cuisine in Southeast Portland. The famous Biwa Burger will be available all night long, as well as other food specials including Biwa menu favorites from years passed. The restaurant will also be donating 10% of the evening's sales to Zenger Farms in support of their "Spring for Zenger" fundraiser.
When: Thursday, March 15th from 5 pm to Midnight.
Where: Biwa 215 Southeast 9th Avenue
How Much: Food prices vary. For more information, call 503-239-8830.
Opening Day of the Portland Farmers' Market at

PSU
What: The opening day of one of the top 10 farmers' markets in America, complete with new vendors alongside tried-and-true favorites. Stroll through two full blocks of Oregon's best produce and artisan food, included plenty of hot food options to nosh while you explore.
When: Saturday, March 17th from 8:30 am to 2 pm.
Where: SW Park Ave & SW Montgomery St, Downtown Portland
How Much: Free!
St. Patty´s Day Celebration Cooking Class and Dinner at In Good Taste
What: An educational and delicious evening with Chef Erika Reagor exploring the best of Irish-inspired cuisine. Each course will feature beer as an ingredient and a paired beverage. Guests will learn cooking techniques like frying, braising, brining, baking, and pan-frying while feasting on Irish cheddar dip with Irish soda bread, beer-battered cod, Guinness-marinated thick cut pork chops, potato pancakes, and Chocolate stout mousse.
When: Saturday, March 17th at 6 pm
Where: In Good Taste 6302 SW Meadows Road, Lake Oswego
How Much: $95 per person, for reservations visit the In Good Taste website.
Double Mountain Brewery Fifth Anniversary Party
What: A free, all-day event featuring reserve Double Mountain beers, St. Patrick's Day food specials, and live music from Meat Puppets, The Quick and Easy Boys, the Resolectrics, and Hood River's own Four on the Floor. Family friendly until 8 pm.
When: Saturday, March 17th (St. Patrick's Day) from Noon to 11 pm.
Where: Double Mountain Brewery & Taproom 8 Fourth Street in Hood River, Oregon
How Much: Free! For more information, visit Double Mountain's website at doublemountainbrewery.com
Breakside Brewing Pairing Dinner at The Bent Brick
What: Three courses (plus appetizers) will be served alongside four beers from Breakside Brewing, including the special Buffalo Trace Bourbon Barrel Aged Ale (a collaboration between Chef Scott Dolich, Bent Brick bar manager Adam Robinson, and Breakside brewing team Sam Barber and Ben Edmunds). Dishes are set to include mussels on the half shell with tobasco mignonette served with Extra Dry Stout, Pork, scrapple, sweet potato, and red eye gravy with Buffalo Trace Bourbon Barrel aged Breakside Brewing Ale, and Xocolatl Churros with malted caramel served with a sourdough ale.
When: Monday, March 19th at 6pm
Where: The Bent Brick 1639 Northwest Marshall Street
How Much: $45 for food and drinks. For reservations, call 503-688-1655
Vernal Equinox Portland Food Adventures at Milwaukie Kitchen and Wine
What: An intimate, multi-course dinner with chefs Courtney Sproule of dindin Supper club and Pascal Sauton of Milwaukie Kitchen & Wine. The pair will prepare spring-inspired dishes and share their favorite places to dine and drink around Portland.
When: Tuesday, March 20th at 6:30 pm.
Where: Milwaukie Kitchen and Wine 10610 SE Main Street in Milwaukie
How Much: $125 per person, including food, drinks, gratuity, and gift certificates to KIR Wine Bar, Ristretto Roasters, Enchante Chocolatier, and KitchenCru. For more information, head to the PFA website.
Cana's Feast Pairing Dinner at Otto
What: A wine pairing dinner featuring dishes from chef Mark Dunleavy of Tabla and wines from Cana's Feast. The five-course feast is set to include grilled radicchio with pine nuts and marscapone, sunchoke gnocchi with apples and roasted garlic, grilled sturgeon, and braised short ribs.
When: Wednesday, March 21st at 5 pm
Where: Otto 1852 SE Hawthorne Blvd
How Much: $45 per person including food, cocktails, and wine.For reservations call 503-517-7770.
Know about a great event coming up that should be on our radar? Shoot me an email at [email protected] or give me a shout over on Twitter at @allisonejones. Now get out there and start eating!