Happy Hour
Happy Hour: Uptown Billiards
A stylish Happy Hour where the eats can't be beat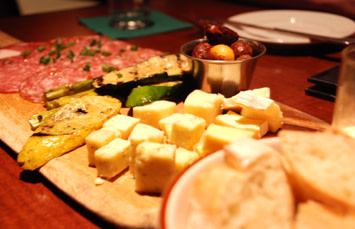 Sometimes love is a slow process, filled with wrong turns and misunderstandings, but growing sweeter with time. Sometimes it limps along before giving up the ghost; sometimes it never even leaves the runway. But sometimes, on those rare occasions when the planets align and you catch Cupid's notice, it can strike like lightning.
Such was the love I felt for Uptown Billiards wine board at Happy Hour: immediate, electric, unconditional. Well, that last part isn't actually true. There were lots of conditions that predisposed me toward instantaneous love, like the perfectly tender grilled squash or the nicely spiced jumble of olives and garlic cloves, the clutter of cheese or the medley of meat. Whatever the case, at $5.50 per person it was nothing short of highway robbery, only I was the robber. What a thrill.
This dimly lit hall, dressed in Baroque wallpaper and heavy drapes, accented with a glittering bar and row upon row of green felt-clad tables, operates on a simple premise: Happy Hour food should be cheaper. And so it is; appetizers, soups, salads, sandwiches and pizza are all half off from 4-6:30 every evening. The dinner menu is not included, nor are most drinks, though they do offer $5 pours of red and white wine. And to give credit where credit is due, their cocktail list is extensive and varied, rivaled only by their selection of whiskey, 36 strong.
Because the food is such a steal, though, paying a bit more for drinks hardly matters. The fabulous Pizza Mediterraneo, loaded with sun-dried tomato, roasted red peppers, olives, feta and fontina, is only $4.50. Oysters on the half shell ($5.50) are lusciously sweet and fresh, especially topped with a pucker-inducing strawberry ginger granita. The romaine, reggiano and white anchovy salad ($4.50) is also lovely. I wouldn't know how the steamed mussels were, however, as clams arrived in their place. Though our spacey waitress did eventually concede there'd been a substitution ("I haven't been around for a while," she told us in non-explanation), it was at the time a bit of a disappointment. Nevertheless, the menu now reflects the change, and as ancho chili saffron broth cloaks both bivalves equally deliciously, especially when paired with grilled artisan bread and offered up for $5.50, I am willing to forgive.
On the list for next time – and yes, there will be a next time – are the mango and avocado salad, the bacon, pear and fontina pizza, and the habanero guacamole burger. Oh, and also the Pate Like Nobody's Business – a dish with that kind of name, like Uptown Billiards itself, simply has style.