HAPPY HOUR OF THE WEEK
Happy Hour at Broder
Avoid the morning wait and head to Broder in the p.m. for Happy Hour-priced portions of the Swedish eatery's popular lefse, meatballs, aebleskiver, and a truly Scandinavian charcuterie board.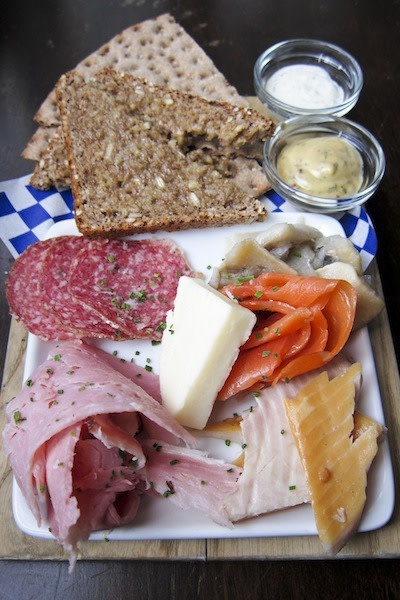 Any brunch fanatic in Portland will tell you Broder is a dream in the morning—slick yet cozy Scandinavian design meets crave-worthy Swedish vittles and cocktails.
The only problem? You're likely to wait an hour to snag a table in the morning—especially after Broder's smoked trout Pytt I Panna made a starring appearance in our Best Breakfast issue.
If you're hankering for some unpronounceable but easily devourable Swedish dishes and would rather skip the wait, we've stumbled on the under-the-radar solution: Happy Hour. Wednesday through Saturday from 5 to 6 pm, Broder serves up the mood lighting and a small-but-mighty selection of dishes that reads like a Greatest Hits album of the full menu (at a discount!).
Think $6 Swedish meatballs with raisin-studded walnut toast, $5 aebleskiver (Danish pancakes doused in powdered sugar), $6 lefse with lemon curd and butter, and even a dish of that gorgeous Pytt I Panna hash for just $5.
The star of the Happy Hour menu is the Surf & Turf Bord—a well-curated selection of savory snacks from the land and sea, including salami, ham, gravlax, smoked trout, pickled herring, and a wedge of creamy, nutty cheese complete with crispbread, seeded brown bread from Pearl Bakery, and a few dill-infused sauces to pull it all together. It's certainly a welcome departure from the pate-and-rillette charcuterie boards around town, and it's the sole item that's available exclusively at Happy Hour (which puts you one step ahead of Broder's brunch-only fans).
Need a little booze to make your Happy Hour truly happy? Broder offers $1 off all of their house cocktails and $1.50 off all draft beer.
Here's your game plan: head to Broder on a Wednesday or Thursday at 5:30 and snack on some Happy Hour dishes shared between a few friends, then order off the served-all-day breakfast menu for dinner. With no wait, no brunch crowd, and a table full of adorable ramekins and small plates full of Swedish flavors, you simply can't go wrong.