FOOD AND DRINK EVENTS
Hop on the Oyster Bus
On April 7th, a bus full of oyster and beer lovers will ride to the South Puget Sound for tours and plenty of great eats and drinks from EaT: An Oyster Bar, Double Mountain and Lompoc Brewing. Will you be on it?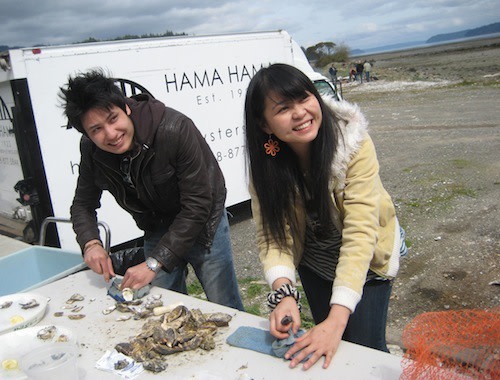 Tobias Hogan and Ethan Powell of EaT: An Oyster Bar are taking a break from putting together their new restaurant The Parish for a day trip full of shuckin' good times—and you're invited.
On Saturday, April 7th, the Oyster Bus will depart from Portland at 9 am and head to the South Puget Sound near Olympia for a tour of Chelsea Shellfish Farm, known for their sustainable farming practices and delicious Chelsea Gem oysters.
Brewmasters of Hood River's Double Mountain Brewery and Portland's Lompoc Brewing will be on board to chat and pour their brews, and Hogan and Powell have planned an amazing lunch that they'll prepare at the oyster farm. The trip will be a great chance to get an insider's glimpse at Pacific shellfish farming, find out the secrets behind pairing beers with oysters, and learn how to shuck your own at home.
Lunch at the oyster farm is set to include all the oysters you can eat, grilled flank steak with chimichurri, romaine and radish salad with buttermilk dressing, Yukon Gold potatoes with creme fraiche and scallions, and asparagus with pecorino and lemon vinaigrette.
The whole trip—including transportation, lunch, oyster farm tour, plenty of beer, and all-you-can-eat-oysters—is just $75 per person (which, considering gas prices right now, is a crazy good deal). To reserve your spot on the Oyster Bus, call 503-281-1222 or visit the restaurant at 3808 N. Williams to sign up.
Who knows, you may be able to wrangle them into giving up more details regarding their new project, The Parish. If you get those juicy deets, you know where to send them: [email protected].