BEST OF PDX
Hot Potatoes
In honor of St. Patrick's Day and all things Irish, we're exploring the best potato dishes in town to see how Portland chefs in food carts and fine dining kitchens transform humble spud.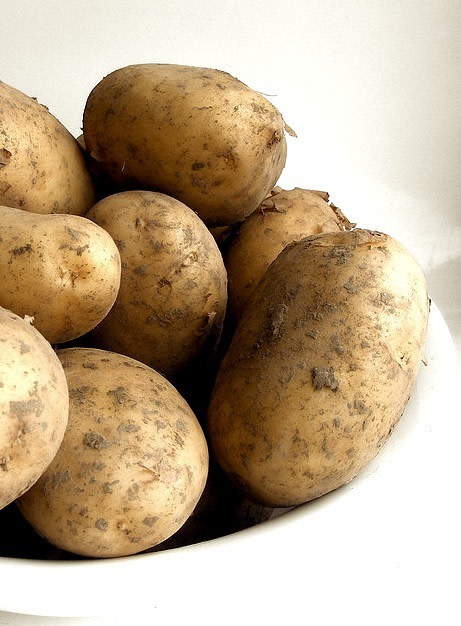 "Only two things in this world are too serious to be jested on, potatoes and matrimony."
The Irish saying attests to the vital importance of the spud in the culinary history of one country, but the true legacy of the potato is an international one.
From French fries to lefse, Spanish tortilla to gnocchi, the potato has worked its way into the hearts and stomachs of people around the world.
Here in Portland, we're no strangers to the allure of the tater, so here are some tried-and-true ways to satisfy your potato fix, whether you're washing it down with green beer or not.
Potato Pancakes at Mira's Ladle 4031 SE Hawthorne Boulevard
Chef Mira Kowalska's $5 potato pancakes are as good as any your grandma makes, and they can come gluten-free for a dollar more. The savory golden saucers from this food cart across from the Hawthorne New Seasons Market come with applesauce and sour cream for an affordable potato indulgence.
Chocolate Potato Doughnut and Potatoes Bravas at Tasty n Sons 3808 N Williams, Suite C
Why choose between sweet and savory potato delights when you can have it both ways at Tasty n Sons? Tuck into a plate of harissa-spiked Potatoes Bravas with over easy eggs ($7.50), add a few hot and fluffy cocoa-infused potato doughnuts with crème anglaise ($1.50 each), and you'll be in potato heaven.
Potato Leek Soup at Wildwood 1221 NW 21st Avenue
No list of crave-worthy potato dishes would be complete without a gourmet take on the humble potato leek soup. Chef Dustin Clark puts his spin on the creamy cold-weather classic with savory bacon, crispy leeks, and bright green chives ($9).
Lefse of the Day at Broder 2508 SE Clinton Street
This popular Scandinavian eatery on SE Clinton serves up a daily-changing potato crepe for the a.m. crowd, stuffed with fillings like ham and farmers cheese, poached pears and onion marmalade, or apple and bacon topped with two eggs for a filling morning meal ($9).
Potato Causa at Andina 1314 NW Glisan Street
This traditional Peruvian appetizer layers lime-spiked mashed potato served cold with a variety of fillings. Choose between the Morada, with Peruvian purple potatoes and shredded chicken breast with ají amarillo, the Mixta Nikkei with Yukon Gold potato and spicy tuna and crab salad topped with crispy breaded prawns, or the Solterito a Yukon Gold potato cake with a salad of green beans, fresh corn, cotija cheese and tomatoes ($9.50).
Tortilla Espanola at Patanegra 1818 NW 23rd Place
No, not that kind of tortilla…try Spain's famous tapa, a layered pie of potatoes, onion, and eggs at one of Portland's most authentic tapas bars ($6 small, $9 large). Both simple and sophisticated, the potato-filled Tortilla Espanola is a perfect addition to an array of spicier small plates.
DIY Potato Skillet at Detour 3035 SE Division Street
If you like to have it your way when it comes to spuds, head to Detour for a potato skillet with your choice of three ingredients for $7.50 (extra items are fifty cents). Seasoned home fries are roasted with mix-ins like fresh basil, herb cream cheese, roasted red peppers, goat cheese, wild smoked salmon, or pepper bacon.
Shoestring Rosemary Fries at Burgerville Many locations
Locally-sourced fast food restaurant Burgerville is frying up a savory and woodsy spin on their classic french fry, featuring local rosemary, garlic, and olive oil. This seasonal favorite is available for a limited time only, so get 'em while they're hot.
Potato-Parmesan Gnocchi at Bluehour 250 NW 13th Avenue
Chef Thomas Boyce brings these Italian potato dumplings to the next level with rabbit ragout and braised trumpet mushrooms ($14). Each bite blends pillowy gnocchi with savory sauce for a truly sophisticated potato dish.
Potato Salad at Kenny & Zukes 1038 SW Stark Street
This classic deli side pairs perfectly with a pastrami sandwich on rye, balancing the spices and meaty magnificence of a mile-high pile of beef with cool and creamy simplicity. While the meat may get all the press, this creamy side deserves its own potato praise.
With so many takes on the humble potato, there are obviously hundreds of dishes that could belong on this list, so let's keep building it. Where do you satisfy your potato cravings? Let us know in the comments!