Mark Your Calendar
It's a Wine…It's a Beer…It's Sake, Man!
Sake Fest Back in Portland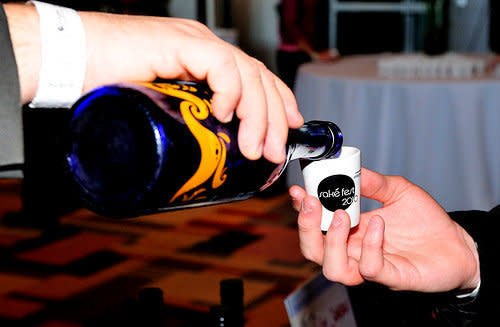 Sake's reputation precedes it as a cheap, hot addition to a sushi supper, or more recently, a high-end cocktail ingredient, but great drinking minds will tell you it's so much more. A rice-based alcohol whose 5,000-year brewing history includes a Chinese birth and third century migration to Japan, sake is often called rice wine but has a production process akin to that of beer. Like both wine and beer, however, this Asian potable has more than enough qualities, varieties, and uses to give any would-be snob plenty to talk about.
Attend this year's Sake Fest at the Governor Hotel (Thursday April 12, 6:30 – 9 PM), and you could learn enough to hold forth, too. Pair it with cheese and chocolate? Sure. With pizza or pasta? Why not? Pulled pork, you say? No sweat. Aficionados swear sake is as versatile as any other alcohol, and will offer proof in sample-sized, perfectly paired packages. When serving your newest culinary addition to your friends, never fear: experts are on hand to teach you the ins and outs of sake-speak. Soon you'll be tossing off gems of insight regarding fragrance, impact, finish, acidity, presence and complexity. Easy as mochi.
If you still need help, or simply want to take your sake savvy to the next level, SakeOne's got you covered. The Forest Grove-based company, one of a tiny cadre of American sake brewers, is launching its inaugural Sake Cocktail Guide, chockfull of tasty recipes from those in the know nationwide (for your copy, email [email protected] with Saké Cocktail Booklet in the subject). Flip through the pages of this how-to and find sake dressed in elaborate costumes of sweet, spicy, floral and fruity, and accompanied by such outlandish ingredients as coarse crystal date sugar and Monin Jasmine Syrup. Even more fun, these party-worthy drinks come with names like Brennan's Pear Flower cocktail and Melngailis' Master Cleanse-Tini.
With such versatility and delectability on offer, why don't we hear more about this appetizing alcohol? My fellow Portland Monthly intern Brandy Crowe, who learned much about the peculiar-seeming palliative while working at SakeOne, says that part of the problem is education: people simply don't know enough about sake to appreciate it. A good festival ought to take care of that, she added, but there's still the problem of taste: "It's very bold. Just like wine, some people don't like red wine at first. You have to sample it, get used to it, try it with food." Fortunately for the consumer, this will not be a problem at Sake Fest.
And while you're at it, why limit yourself to sake alone? Sample the full gamut of exotic hooch, including imported beers and plum wine, and learn to combine your new favorite into mouthwatering mixed drinks. With almost 40 Portland chefs and sake producers from abroad and at home, with so much to learn and so much to try, this festival is sure to educate, illuminate, even intoxicate. Bottoms up.