MENU WATCH
Menu Trend: Nettles
These foraged greens are a sure sign of spring on menus across town, so we did a little research to help fans of the nutritious and delicious (but often feared) superfood stay informed.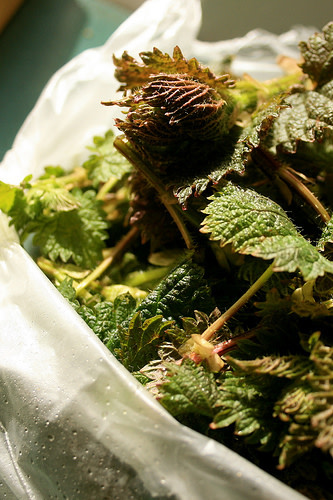 The Trend: Move over spinach and kale… there's a new green in town. Freshly-foraged wild nettles are popping up on menus throughout Portland in everything from pasta and pizza to soup and pesto.
What they are: Though the term "nettle" could refer to any of 30 flowering plants of the Urticaceae family, the most-used variety for culinary purposes is the stinging nettle. The vitamin-packed plant is native to North America, and thrives here in the soggy Pacific Northwest where the greens are harvested in the wild.
While noted for their earthy flavor and healing properties, there's a small factor that keeps these green beauties from being truly popular—they're covered in hundreds of stinging hairs that deliver histamine and other chemicals to the hands, mouths, or paws of predictors (including we intrepid humans) that want to eat them.
In stores and at farmers' markets, you'll usually find them in opaque, waxy bags that keep the plant's sharp hairs away from vulnerable hands. Chefs get them from local foragers who keep their wild produce hunting grounds super secret (wild greens, fiddle-head ferns, mushrooms, and truffles sell at a premium, so well-guarded foraging locations are very hush-hush).
What they taste like: Nettles taste like spinach when cooked, and are often used in soups and frittatas, ground into pesto, sauteed with butter, and brewed as tea. Don't worry, they won't hurt you in restaurants—soaking or boiling nettles in water or cooking them in other liquids removes the stinging chemicals from the greens, so your mouth is certainly safe.
Who's using them:
Lovely's Fifty-Fifty on North Mississippi is serving up a pizza with wild nettles, taleggio, and pancetta ($15).
Over in Downtown, Clyde Common chef Chris DiMinno features creamed nettles with cavatelli pasta, walnuts, and grana padano cheese ($20).
Park Kitchen chef Scott Dolich is a huge fan of foraged foods, and you'll find potato gnocchi with nettles and yellowfoot mushrooms on the eatery's small plates menu ($17).
Bunk Sandwiches owner Tommy Habetz recently whipped up bruschetta with ricotta and garlic nettle pesto during a preview of his new Sunday Supper series.
Southeast Belmont's Accanto is serving a classic nettle soup with lemon crème fraiche, brioche croutons, and Oregon black truffle ($7, $5 at happy hour). Next door, Genoa's five-course spring menu features Agnolotti di Ortica, tiny ravioli-style packets stuffed with nettles and housemade ricotta.
The Pearl District's Irving Street Kitchen is also exploring nettle soup, topping their recipe with egg yolk and fennel pollen ($9).
Southwest Broadway institution Higgin's is tossing up bucatini pasta with nettle and walnut pesto, sprinkled with grana padano cheese ($16.50 at lunch, $19.50 at dinner).
At North Willams' Lincoln Restaurant, chef Jenn Louis is offering a stirred risotto with wild nettle puree topped with pine nuts and a poached duck egg ($11 small, $18 large).
Continuing the risotto trend, at Northeast 30th's DOC chefs Jobie Bailey and Paul Losch are serving a risotto with nettles, almonds,and leeks ($19) and at Northwest Hoyt's Fratelli, chef Paul Klitsie is stirring up his risotto with asparagus and nettles ($12).
See an ingredient on a menu in Portland and want to know more? Let me do the research for you. Email me at [email protected] or holler at me on Twitter at @allisonejones.