Beer Bulletin
Cartlandia Gets a Liquor License
Will the floodgates open? Not exactly.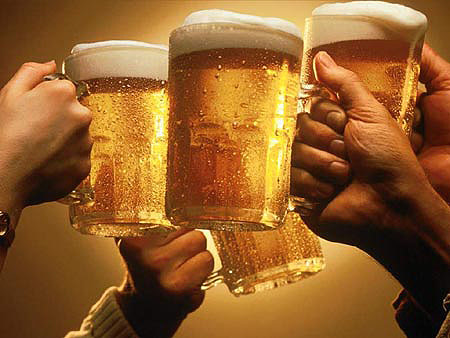 On Friday, after a reported three-hour deliberation, the Oregon Liquor Control Commission unanimously approved a liquor license for the Cartlandia food cart pod at the intersection of the Springwater Corridor and Southeast 82nd Avenue. Weary travelers can now settle down at the self-proclaimed "bike-central" cart pod and enjoy a beer with their meal, between the hours of 10am and 10pm, Monday – Thursday, and 10am to 11pm on Friday, Saturday and Sunday.
The OLCC has historically never granted annual liquor licenses to food carts (the Captured by Porches brewery cart on SE Division has apparently slipped by on a technicality), but Cartlandia's fenced-in beer garden and willingness to hire alcohol monitors gave it a leg up. Although OLCC's licensing director Farshad Allahdadi made it clear in an interview on Friday that the Cartlandia approval does not set a precedent for food carts and liquor licenses, he did predict that the number of applications from food carts will rise.
While Mayor Sam Adams deems the license to be a harbinger of a Portland filled with booze-slinging food carts, Allahdadi assured the public that the OLCC's chief concern remains "public safety and impact on community livability." A walled-in beer garden with strict serving hours and alcohol monitors offers just about the same amount of control that any brick-and-mortar restaurant does, so how does hizzoner envision this food-cart-booze-fueled apocalypse? Even though there are 700 food carts, Allahdadi didn't seem to be worried about a deluge of applications, and he certainly doesn't foresee all 700 being granted liquor licenses. "I wouldn't anticipate that we would see a tremendous flood from this decision," he added, offhandedly addressing the Mayor's concerns.
Whatever the future of Portland's relationship with improvised restaurants and spirits, you can now soon order a beer at Cartlandia. Cheers!