HOMETOWN PRIDE
Oprah Loves Portland
O Magazine's first-ever food issue puts the spotlight on Salt & Straw Ice Cream, Olympic Provisions, and Mark Bitterman's The Meadow.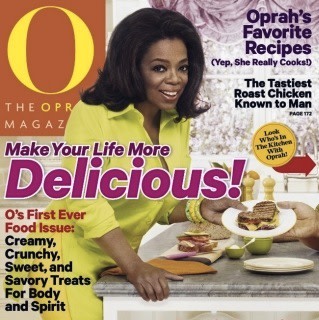 O Magazine, the monthly chronicle of Oprah's favorite things, has released their April issue with a focus on our favorite subject—food!
Among the edible favorites? Salt & Straw's Arbequina Olive Oil, Olympic Provisions chorizo, and artisan salt from Mark Bitterman's The Meadow.
To celebrate their appearance in the glossy pages of Oprah's mag, Salt & Straw has created the Oprah Club Sundae.
When ice cream lovers buy a scoop of Arbequina Olive Oil ice cream at the Salt & Straw scoop shop (2035 NE Alberta St), the team will turn it into a sundae for free (topping it off with house-made hot fudge, candied bacon from Olympic Provisions and Smoked Halen Mon Gold Sea Salt from The Meadow). All it takes is the words "I wan't in on Oprah's favorite ice cream" and the sundae is yours.
The Oprah Club Sundae offer is good through Friday, March 16, while supplies last.