FOOD AND DRINK EVENTS
Plate & Pitchfork 2012 Lineup
The 10th anniversary season of farmer/chef collaborative dinners is filled with all-star chefs from Paley's Place, Aviary, The Woodsman Tavern, Nostrana, St Jack, Grüner, Clyde Common, and so many more.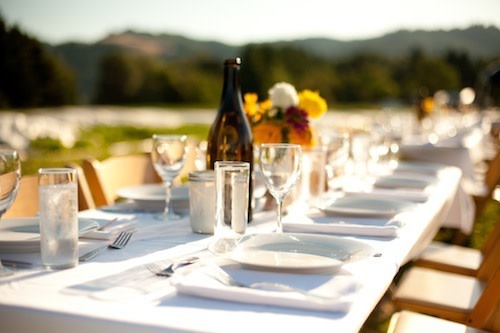 The 2012 lineup of Plate & Pitchfork dinners takes the cake for the most star-studded dream teams of any food event in Oregon. With 17 dinners planned (along with one incredible rafting trip) Plate & Pitchfork founder Erika Polmar is ready to celebrate the organization's 10th anniversary in a big way.
If you've never been to a Plate & Pitchfork dinner, this is the year to change that. The star-studded lineup of chefs, winemakers, distilleries, and breweries represents the best of the Oregon food and drink community, featuring the small farms that make our local culinary prowess possible. With so many five-star names pairing their unmatched culinary imaginations with ingredients fresh from those farms, these dinners are guaranteed to please.
Tickets are available on the Plate & Pitchfork website starting Saturday, March 3rd at 9 am, and the $100 to $150 price tag will benefit non-profits in Oregon—including the Oregon Tilth Organic Education Center, Farmers Ending Hunger, Food Works, and the Sauvie Island Center—that help feed our vulnerable neighbors and educate the community about local and sustainable food.
For the full line-up, visit the Plate & Pitchfork website. Highlights of the season include:
Sunday, July 1 at Champoeg Farm
Chef Jobie Baley of D.O.C and Chef Ben Meyer of Grain & Gristle with Lumos Wine Co.
Sunday, July 15 at Smith Berry Barn
Chef Aaron Barnett from St. Jack and Chef Christopher Israel from Gruner with Love & Squalor Wines
Saturday, July 22 at Domaine Drouhin Oregon
Chef Scott Ketterman from Crown Paella, Chef Gregory Gourdet from Departure, and Chef Kristen D. Murray (formerly of Paley's Place) with wines from Domaine Drouhin Oregon (with Vegetarian options).
Sunday, July 29 at Paulee
Chef Daniel Mondok from Paulee with Chefs Kat Whitehead, Jasper Shen, and Sarah Pliner from Aviary with wines from Antica Terra
Saturday, August 11 at Sauvie Island Organics
Chef Chris Diminno from Clyde Common with Chef Alex Yoder from Olympic Provisions with wines Chehalem
Sunday, August 12 at Sauvie Island Organics
A special Benefit for the Sauvie Island Center, featuring Chef Dolan Lane from clarklewis and Chef Cathy Whims from Nostrana and Oven & Shaker with Westrey Wine Co (Vegetarian Meal Available)
Saturday, August 18 at Viridian Farms
Chef Anthony Cafeiro from Tabla Mediterranean Bistro, Chef William Preisch from Bent Brick & Chef Kirsten Jenson from the Sugar Cube with Andrew Rich Wines
Sunday, August 19 at Viridian Farms
A special Benefit for Farmers Ending Hunger with Chef Vitaly Paley from Paley's Place with Chef Benjamin Bettinger (formerly of Beaker & Flask) with wine from Ken Wright Cellars