Fáilte!
St. Patrick's Soirees
The holiday merriment will flow like Guinness in Portland.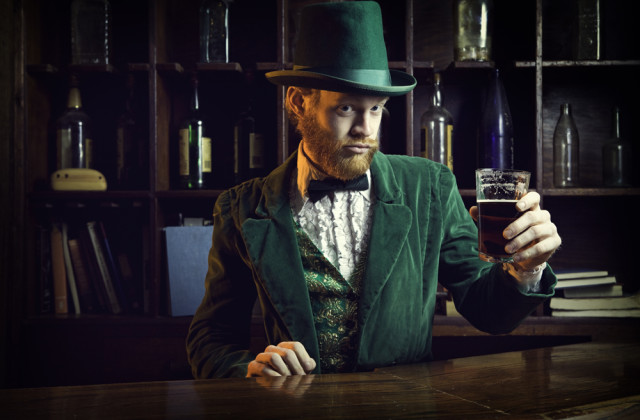 Welcome to St. Patrick's Day 2012. We are indeed lucky lads and lasses in our great green city of Portland, as there's an abundance of celebrations honoring the traditions of pub crawlin' and corned beef eatin'. Better still, this most Irish of days falls on a Saturday this year, which means even more opportunities for stout-fueled roistering. For your convenience, we've gathered the lot of festivities for all the craic ye be seeking, from family-friendly fun and hearty Irish cuisine, to stomping live bands, booze specials, and boxing matches. So don your greens, pluck a shamrock, and slap a leprechaun—we're on our way!
Dublin Pub boasts a lineup of six bands including pub favorites Darby O'Gill. They will not feature Sean Connery's vocals from the movie of the same name, but will play timeless ballads about drinking and kissing the lasses. There will be plenty of Irish Stew, corned beef and cabbage, and sausage bangers in honor of the day. (6821 SW Beaverton-Hillsdale Hwy)
How about a St. Patrick's Day brunch featuring a bottomless pint or mimosa? That's the Hop o' the Morning special at East Burn. Be sure to save room for a mess of Mike's Corned Beef and Colcannons. Healy & Haggerty will provide the swilling soundtrack. (1800 E. Burnside St)
Be on the lookout for a giant, two-story inflatable guest planted atop Jake's Famous Crawfish, which heralds Portland's longest continuous Irish holiday celebration (they've been throwing this party annually since 1892). The action happens inside the restaurant, as well as a block-long tent, and will feature jams by the likes of Seamus Egan & Friends and the Clan MacCleay Pipe Band. This is a charity event, with all proceeds going to Trillium Family Services. (401 SW 12th Ave)
Paddy's is throwing a St. Paddy's street party, closing down SW Yamhill Avenue in order to dole out food, drink, and entertainment, including Irish dancing, five bands, and a headlining appearance by local sax-playing soul man Patrick Lamb. Be sure to buy up plenty of raffle tickets as a five-day trip for two to Ireland will be raffled off to raise money for the Children's Cancer Association. (65 SW Yamhill St)
North45 Pub ladles up the lamb stew with Guinness brew, and will have sipping specials on beer and Jameson Irish Whiskey. Caper about to the music of Carolan's Skull Irish Band, Kilty by Association, and (rumor has it), bagpipers playing on bar tops. (517 NW 21st Ave)
With diversions like an Ireland vs USA boxing match and a viewing party at the bar for that coincidentally scheduled Portland Timbers' game, Kell's Irish Restaurant and Pub is the place to be for the biggest blarney bash in town. Their weekend celebration promises a myriad of live bands belting out traditional tunes, dance troupes, and rivers of Guinness. (12 SW Second Ave)
Perhaps chilling in Katie O'Brien's spacious back patio is more your speed, nestled in a comfy chair ordering up corned beef hash and triple-decker reubens while nodding to the percussive persistance of the Last Regiment Syncopated Drummers marching band. Company reps from Bushmill's will be stopping for whiskey tastings at 7pm. (2809 NE Sandy Blvd)
The Doug Fir hosts local Celtic punk band Amadan. Their frenzy of fiddling should blend nicely with the woodsy ambience resulting in much rowdy revelry. Watch for an appearance by the alphorn. (830 E. Burnside St)
What's St. Patrick's without the music of The Pogues? KMRIA (Kiss My Royal Irish Ass), a holiday specific tribute band featuring members of the Decemberists, The Minus 5, Eels, and Casey Neill & the Norway Rats will be tearing it up at the Wonder Ballroom.
Biddy McGraw's brings live Irish music from 10 bands throughout the day, great Irish fare, drink, and good cheer! Parents are welcome too; there will be face painting and a balloon artist for the wee ones, who can hang with the family until 10pm. (6000 NE Glisan St)
As one might imagine, the brothers McMenamin take this holiday pretty seriously. You can find mc-tastic celebrations at all locations, with a multitude of bands, dancing, and the roving River City Pipe band—not to mention leprechauns with candy. Follow the Seamus MacDuff Golf Tourney on the green at Edgefield, or bring the clan to The Kennedy School to dance a few jigs and reels with Freak Mountain Ramblers and the Jig Jam Irish Hooley. At the top o' the evening bonnie lass Ashleigh Flynn will take the stage at Crystal Ballroom, followed by Under a Blood Red Sky, a tribute to Irish icons U2. Toast "Erin Go Braugh!" with McMenamin's Irish Stout, Irish Coffee cocktails, the newly released White Owl Whiskey, and the annual limited-edition Devil's Bit Whiskey. Food specials include seasonal fare such as Dubliner Cheese Salad, Shepherd's Pie, and MacSleyne Irish Stew.
And finally, It's OK to get stocious on the 12th annual St. Pat's BarFly Bus. It's $25 a head or 10 tix for $200, which means no driving and no cover charges as you receive VIP treatment at 8-10 watering holes, along with drink specials and free food.
Sláinte!!!