BEST OF PDX
The Alt Burgers
Let's face it, beef burgers are so mainstream. If you're in the market for a burger that reflects your alternative proclivities, check out our list of the city's best veggie, lamb, fish, and turkey spins on the take-out classic.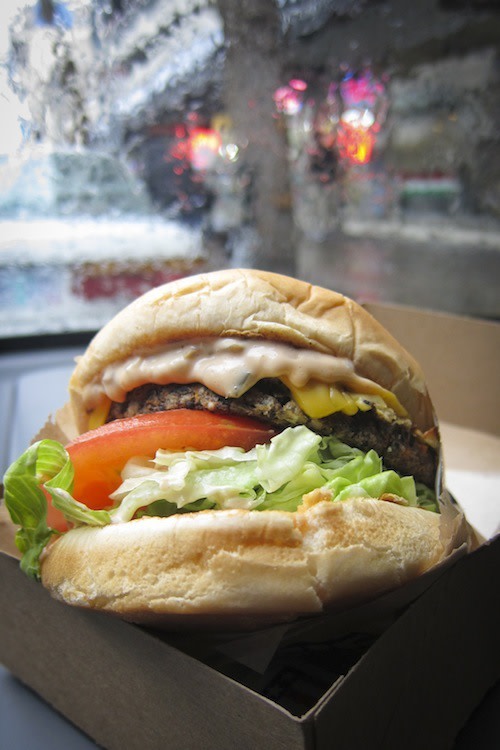 You love your indie music, you're familiar with small-label local designers, and you only read magazines most people haven't heard of… so why are you eating a mainstream burger?
That's right, because they're heartrendingly, breathtakingly delicious, but sometimes you may need to take a break from the beef. We've got the goods on where to turn when your cravings extend beyond the basic burger.
Joe's Burgers serves up some California-style burger realness with their gluten-free Veggie Burger, piled high with crisp iceberg lettuce, tomato, "special sauce" and on a toasted, air-light Franz bun ($5.50). The burger isn't exactly a patty, it's more like a layer of caramelized onions and veggies that melt into the slice of cheese, animal style, if you catch my drift. Three locations in Portland and Tigard; joesburgerspdx.com/
Dick's Kitchen brings the Northwest Pride with their wild-caught Salmon Burger, on a house-made potato bun with lettuce, tomato, onion, DK sauce ($8.50). They'll also make sure you get your veggies, with a side of coleslaw and eclectic house-made pickles (kale pickles, anyone?). 704 NW 21st Ave and 3312 SE Belmont St; dkportland.com
Little Big Burger's crispy fried Veggie Burger is a pleasant departure from most texture-challenged non-meat patties ($3.50). This little gem of a burger is made by Marie Jensen-Osmunson of Chez Gourmet in Portland, but the folks at LBB take it a step farther—the patties are deep fried, which crisps up the mixture of rice, mushrooms, cheese, and oats for a well-seasoned burger with a crunch. Multiple locations in Portland and Eugene; littlebigburger.com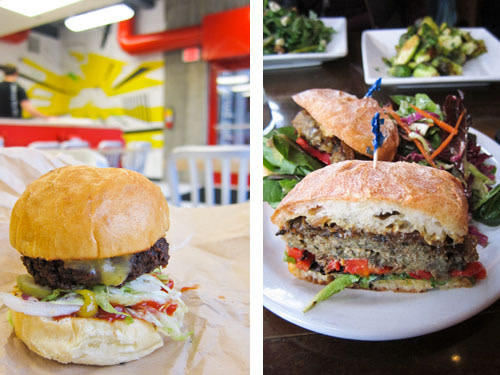 The Farm Cafe's Farmhouse Veggie Burger has been featured on the Food Network and in the raving praise of vegetarians around town. This hefty sandwich is made with smoky eggplant, parsley, breadcrumbs, garlic, and cheddar and topped with caramelized onions and roasted red pepper ($11). Best of all? The Farm shared the recipe for the patty on their website so you can try it at home. 10 Southeast 7th Avenue; thefarmcafe.com
Foster Burger offers a tribute to New Zealand with their Kiwi Burger , a ground Cattail Creek lamb patty topped with cheddar, pickled beets, and a fried egg on a light and slightly sweet bun from An Xuyen ($9). The lamb is extra-juicy, and the earthy flavor of the beets perfectly complements the richness of the cheese and mayo. 5339 SE Foster Road; fosterburger.com
Violetta's Rollin' Etta food truck is currently parked at the Good Food Here pod on Belmont, and within its interior a fantastic turkey burger is born. The brioche-bunned Turkey Burger Deluxe sports an organic herbed turkey patty, a few slices of bacon, butter lettuce, pickled red onions, chipotle aioli and the eatery's signature "10 hour tomatoes" ($7). 4290 SE Belmont; www.violettapdx.com
Any of the beef patties on the epic burgers at Downtown's Brunchbox can be swapped for a turkey patty, so if for some reason you're drawn to order a Redonkadonk (with American cheese, bacon, ham, spam, and a fried egg between two grilled cheese sandwiches instead of a bun) but don't want the extra cholesterol load of a beef patty, go right ahead. SW 5th Ave & SW Stark St; brunchboxpdx.com
Where do you get your unbeefy burger fix? Please, please, please share with us in the comments—we love your tips!