MENU WATCH
Bar Avignon's Late-Night Burger
Southeast Division's chic and cozy neighborhood eatery is dialing up their comfort food quotient with a monthly shifting, seasonally-driven burger available after ten on Fridays and Saturdays.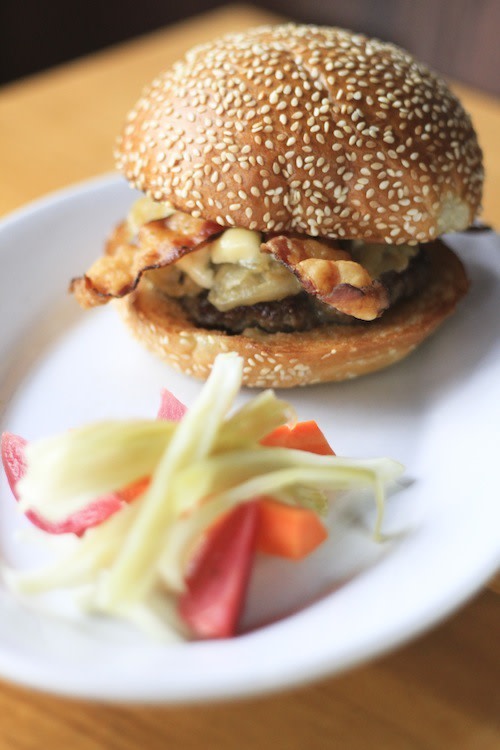 Here's something to add to your list of Portland late-night munchies: Starting tonight, Southeast Division's Bar Avignon will be offering a monthly-changing burger to feed your cravings every Friday and Saturday from 10 pm to midnight.
Although owners Randy Goodman and Nancy Hunt promised themselves they'd stay out of the race for the city's best burger when they opened Bar Avignon, the arrival of creative new chef Eric Joppie has them eating their words—on a fresh sesame bun.
The late-night weekend burger will always be on a soft, locally-made bun from Delphina's Bakery, but the toppings will change monthly. According to Joppie, "the flavors will be inspired by what's in the farmers' markets, what's being made by local producers, and will also be a bit of a culinary trip around the world." He hints that the seasonally-driven burger may turn into a lamb burger spiked with harissa in the spring, and flavor-packed New Mexican Hatch Chiles could very well make an appearance this summer.
Tonight's inaugural burger features a Painted Hills beef patty topped with slowly caramelized onions, robust Rogue Crater Lake Blue Cheese, and crispy bacon from Carlton Farms.
Each $10 burger comes with a side of house-made pickles and an extra-large helping of Bar Avignon's signature brand of Euro-chic ambiance. Top that, dive bars.
Bar Avignon
2138 SE Division; 503-517-0808
Open 7 days a week, 5 pm to close