Beer Bulletin
Brew Days Rising
A bounty of beer fests on the horizon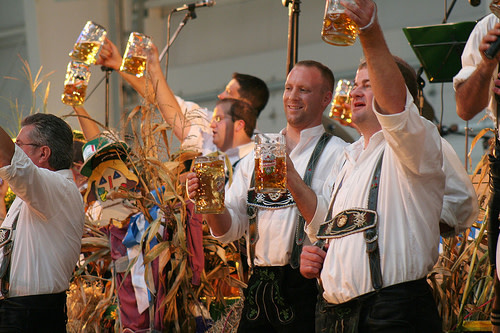 With the sun tentatively peeking out from behind the cloud cover, the time has come for rabid brew festival fanatics to start their engines. Just make sure someone else drives you home.
8th Annual Oregon Garden Brewfest
What: This annual botanical garden beer festival features over 40 breweries pouring 100 brews to the beat of live music, as well as tasting instruction from Women Enjoying Beer and an Oregon Garden Homebrew Competition.
When: Friday April 27-28 from noon to 11 pm.
Where: The Oregon Garden, 879 West Main St, Silverton, Oregon
How Much: For pre-orders, a one-day tasting package (including admission, tasting mug, 7 tasting tickets, and priority entrance) is $15, two-day tasting package (admission, mug, 14 tasting tickets, and priority entry) is $25.
Admission for both days, tasting mug, 14 tasting tickets, and quicker entry at the Brewfest. Admission will be the same price at the door, with fewer tasting tickets. Tickets available here.
2nd Annual GermanFest
What: An abundance of German style beers brewed by Oregon breweries, including Alameda, Amnesia, Block 15, The Commons, Heater Allen, and more.
When: Saturday, April 28 from 4 PM to 11:30 PM
Where: Bailey's Taproom, 213 SW Broadway
How Much: There are a limited number of advance VIP (2 PM entry) tickets for $25. These tickets include a souvenir stein and six tastes but also allow entrance two hours earlier from 2-4 PM, providing a less frenzied experience as well as guaranteeing a seat somewhere in a far less crowded bar. Tickets include a "light buffet" and ODG tasting glass. (21+ only). Tickets available here
Breakside Brewery 2nd Anniversary Party
What: A celebratory beer blast in recognition of two years of superior mad scientist-style brewing and first-rate pub grub. In addition to regular house brews, 8-10 additional beers will be available outside in the beer tent, including a special Gin Barrel-Aged 2nd Anniversary Sour Golden. There also will be live music and guest "celebrity" chefs cooking at the outside grill.
When: Saturday, May 12, from 1 PM to 7 PM
Where: Breakside Brewery, 820 NE Dekum St.
How Much: $15 for a commemorative tasting glass and five drink tickets for the outside beer tent.
10th Annual Sasquatch Brewfest
What: A single-day collection of the finest craft-brewed beers in the Pacific Northwest and a memorial/fundraising event for the late Eugene brewer Glen Hay Falconer and the Glen Hay Falconer Foundation. a nonprofit organization staffed by the Falconer family with a mandate to support craft brewing by providing brewing scholarships.
When: Saturday, May 12, from noon to 10:30 PM
Where: Eugene Hilton, 66 E. Sixth Ave, Eugene
How Much: $10 for a commemorative tasting glass and two drink tickets.