MENU WATCH
Brewing Up a New Take on Pub Fare
Hawthorne's BridgePort Ale House has given chef Jun Robles free reign to transform the menu into a playground of Asian-inspired comfort food packed with big flavors that can stand up to the brewery's powerful beers.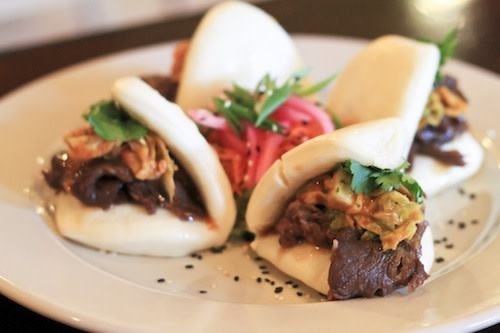 When most people think Portland brew pub, they're certainly going to imagine bacon-stacked burgers, hot wings, various fried vittles, and pints of hoppy beers in endless varieties. While he's certainly keeping the beer and burger on the menu, chef Jun Robles of the remodeled and relaunched BridgePort Ale House on SE Hawthorne is also pairing the brewery's signature suds with more unexpected flavors—and coming up with phenomenal results.
Raised in a diverse neighborhood in Beaverton by food-loving Filipino parents, Robles grew up in the kitchens of Mexican, African American, and Korean neighbors who instilled in him a love of big flavors and the value of using every last bit of an animal or vegetable. After racking up an impressive resume at top Portland restaurants like Nostrana and Le Pigeon, Robles is heading his own kitchen and serving up playful international flavors with an emphasis on offal and Asian-inspired plates.
Menu standouts include the Oko-Lindoo-Yaki, a crispy and savory vegan Japanese pancake with shitake mushrooms and spinach topped with red pepper cashew cream and ponzu, Momofuku-inspired Steamed Buns with bulgogi beef and kimchee or pork belly and cucumber, and the Rice Bowl with char siu pork, seasoned rice, sesame carrots, and jalapenos, topped with a fried egg and plenty of fresh herbs and house pickles.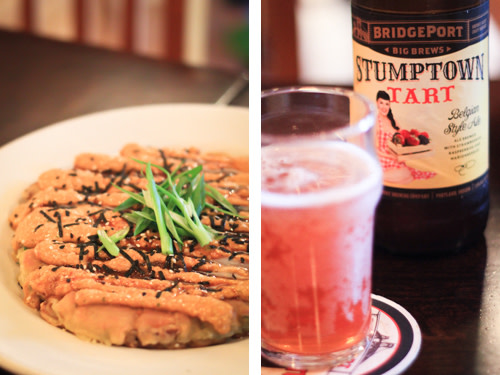 Don't miss the specials menu, recently packed with oxtail empanadas, beef tongue taquitos, IPA BBQ-glazed chicken wings, and the Peanut Butter + Jelly Sando, a beast of a sandwich featuring panko-crusted Draper Valley chicken, bacon, coconut and sriracha infused peanut butter, red pepper jelly, pickled red onion, and cilantro (served with a side of truly awesome french fries).
As for the drink menu, the name of the game here is big, bold beers and a few crave-worthy seasonal brews that simply sing when paired with Robles' dishes. A sure bet is the new Belgian-style Stumptown Tart brewed with marionberries, raspberries, and strawberries with a deliciously balanced sweetness that can tackle Robles' love of salt and spice, or the Summer Squeeze infused with lemongrass and yuzu.
If you haven't been in to the Ale House in a while, it's time for another visit. Your burger-overloaded taste buds will thank you.
BridgePort Ale House
3632 SE Hawthorne Blvd; 503-233-6540