Beer Bulletin
Can-Do Attitude
Actor Adrian Grenier joins Portland's Justin Hawkins to launch a pilsner in a flattop can.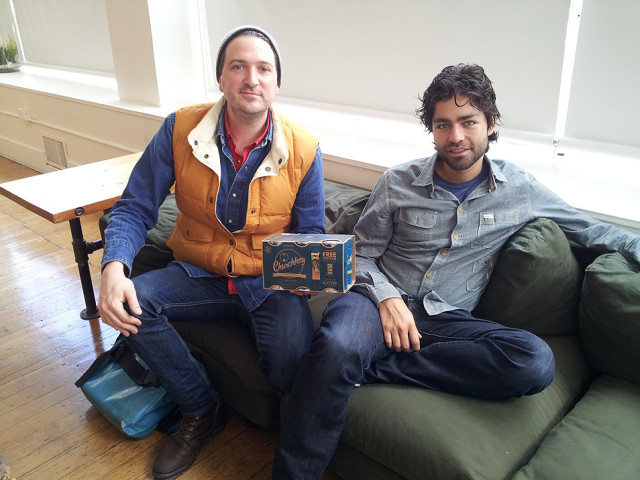 Last Thursday night at Dig-A-Pony was a mob scene of people lined up to taste the new beer on the block from Churchkey Can Co., while at the same time swaying to '50s R&B and straining to get a glimpse of a Hollywood celebrity in their midst. Earlier, when I told my friends I was going to a release party for a new Northwest beer, the response was underwhelming: Just another case of beer snobs yakking the night away about IBUs, yeasts, and mouthfeel. Yawn!
But Churchkey stands out in a crowd for a couple of reasons: It arrives in a vintage container not seen for half a century; really shiny flattop steel cans that require a can opener (or "church key") to crack open. Oh, and one of the co-founders is handsome actor Adrian Grenier, who played Vinnie Chase on the HBO series Entourage.
During a visit to Portland in the Summer of 2010, Grenier was introduced to local designer Justin Hawkins during dinner and drinks at Clyde Common. The two bonded over a chat about the glorious yester-years of brewing in America, including the charm of vintage beer can designs. This turned into an idea, that grew into a plan that was nurtured by research that revealed the flattop cans had long been extinct and had not yet been revived in an era celebrating manliness, Mad Men, and mid-century design. Grenier and Hawkins sought out reputable local brewers Sean Burke and Lucas Jones to develop the recipe for the pilsner, which is brewed and canned out of Seattle's Two Beers Brewing Company. After getting the ball rolling with the Ball Corporation to fabricate 12 oz flattop recyclable steel cans, Hawkins and Grenier tapped beverage industry expert Ryan Soward as Churchkey CEO.
It's easy to dismiss the packaging as a nostalgic marketing strategy, but the sleek teal with gold lettering design on the cans is easy on the eyes, and each heavy six-pack comes with its very own can opener. It's a tad pricey at $9.99 a six-pack—and $3 to 5 dollars a can at local bars—yet a Maletis beverage distribution rep told me that, so far, the demand from local businesses is greater than the supply.
Could hipsters eventually tire of having to work to open their beer, especially after having a few? I received a quick lesson from a Dig-A-Pony's bartender, and after a little practice, and watching others helplessly stab at their cans, I felt empowered and kind of bad-ass cracking open Churchkeys for friends and myself. As for the beer within, the slogan is "It's worth the effort." The light-bodied lager, made with a Czech Pils yeast and German Saaz hops, is described by Churchkey as "complex yet sessionable." Jones and Burke, (the latter of whom is fresh from beer school in Germany and now a star brewer at The Commons Brewery ), have definitely made a solid, easily quaffed pilsner. After puncturing the two triangular holes into the airtight can, there is an inviting escape of foam. I find the taste to be very creamy with shades of vanilla along with a clean bitterness, and a finish that Justin Hawkins calls "Christmas," a very flavorful, yet mild note of wintery pine.
Even after staying out really, really late, Hawkins and Grenier were up early on the morning following the release party with a full itinerary of events to share Churchkey with citizens across Portland. Switching to fresh-brewed Stumptown at the Ace Hotel, the pair were kind enough to answer a few questions.
How did you two meet and decide to make a beer company?
Adrian: I was in Portland about a year and a half ago, and we got together through a mutual friend. We were just having a few beers, got into a discussion of how America drank beer in the past and how beer used to come in the flattop cans. We thought it would be great to experience beer that way again.
Justin: By the end of dinner we were in business.
Adrian: We started to research if anyone had done the concept, and were surprised that they hadn't. Not even Olympia or PBR.
Why a pilsner?
Justin: A lot of people seem to like pilsner and we like pilsner, but it seems like there is not a lot of it, even in Portland. It's harder to find.
Adrian: Craft pilsner is hard to find.
Where do you source your ingredients?
Justin: Most of the ingredients come locally, but we get the Saaz hops straight from Germany.

One of your brewers, Sean Burke, just got back from beer school in Germany and is now brewing at The Commons Brewery.
Adrian: Sean is a star, he keeps coming up for being really good at what he does. We're lucky to have him.
Justin: I actually traveled to Germany to visit Sean and toured Doemens Academy. We wanted the best, we knew of Sean and Lucas, and approached them about the idea. They developed a great recipe. (To Adrian):The Commons is amazing, we have to go there today.
Justin, did your design experience with Nike and Wieden + Kennedy help to conceptualize the the packaging?
Adrian: I just have to say, Justin's ability to easily relay his ideas, to visualize them onto paper, and articulate them out loud, is what moved us forward.
Where can you purchase Churchkey right now?
Justin: Six-packs are available at Belmont Station and a couple of bottle shops around town, we will be in bars by the next week or two.
Adrian: Then we can do a bar crawl!
Justin: Really?
What if you lose your church key? Would it be an excuse to get another six-pack?
Justin: Well, that's the fun part. We enjoy challenging people to innovate.