Recipe
Don't Pass on the Macaroons
Enjoy and indulge in another seasonal celebration – and easy desserts.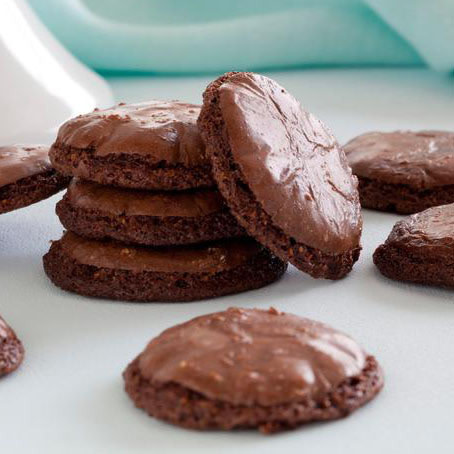 We are now solidly in spring, which means months filled with rain, but also with seasonal celebrations of food, family, friends and life. Passover, and the ritual Seder dinner, is one of these.
This year Passover begins Saturday April 7, and continues for seven days until Friday April 13. The Jewish spring festival tells the story of Exodus, commemorating the liberation of the Israelites from Egyptian slavery. Much of the story is told symbolically through food either eaten or not eaten: bitter herbs (yes), leavened bread (no). Such mindful, deliberate eating is a good reminder of the ways in which food is important and should be appreciated and consumed thoughtfully everyday.
And remember: thoughtful consumption and appreciation of food doesn't mean forgetting about dessert! To that end, a traditional Passover treat is the macaroon. These no-flour cookies have had a resurgence of popularity in their layered, fancy French form, the macaron, but the simple drop cookie recipe for an old-fashioned coconut macaroon is too easy and good not to try at home. (Note: The French macaron is spelled with one "o" while the Jewish American macaroon is spelled with two "o"s; both are devoid of gluten flour. The French cookie cousin uses almond paste or almond flour and egg whites – but importantly, contains no coconut!)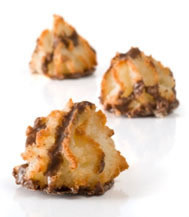 Here are two recipes for macaroons. Both are seriously easy and child-friendly (the second has chocolate). First, from Ronnie Fein, author of Hip Kosher, we have the recipe for:
The Easiest Homemade Coconut Macaroons in the World
2 cups packaged shredded coconut
1/2 cup sugar
pinch of salt
3 egg whites
chopped dried fruit, chocolate chips or whole almonds for garnish, optional
Preheat the oven to 325 degrees. In a bowl, toss the coconut, sugar and salt together. Add the egg whites and work them in with a wooden spoon to form a "dough." Take heaping teaspoons of dough and shape them into balls. Place on a lightly greased cookie sheet. If desired, place a piece of garnish on top of each ball.
Bake for about 20 minutes or until lightly browned. Let cool for 5 minutes, then remove the macaroons to a cake rack to cool completely. Makes about 20.
Notes and variations:
• 1/4 cup matzo cake meal for firmer macaroons
• 1-1/2 teaspoons grated fresh lemon peel
• Chocolate dipped: melt 6 ounces chocolate with 1 tablespoon shortening; dip macaroon tops
From Nigella Lawson, here is a recipe for:
2 egg whites
1 cup ground almonds
3 tablespoons cocoa
1 1/2 cups powdered sugar
Preheat the oven to 400 degrees F and line a baking sheet with parchment or preferably silicon pad.
Mix egg whites (unbeaten) with the ground almonds, cocoa and powdered sugar until you have a sticky but cohesive mixture.
Fill a large bowl with cold water and dip your hands in it to wet them before rolling the mixture into little balls the size of small walnuts. You will probably have to redunk your hands to keep wetting them as you go.
Arrange the macaroon-balls on the lined baking tray and put in the oven to bake for 11 minutes. It's hard to tell when they're ready, as they will seem squishy but they harden up a little as they cool, and anyway, they should be damp within; that's what makes them chewy, so don't worry that the macaroons look sticky underneath.