NEIGHBORHOOD NEWS
Eat Beat Neighborhood News
Top food news stories from around Portland, including ChefStable's takeover of Southwest's Carafe Bistro and new dinner hours for Northeast's Ned Ludd.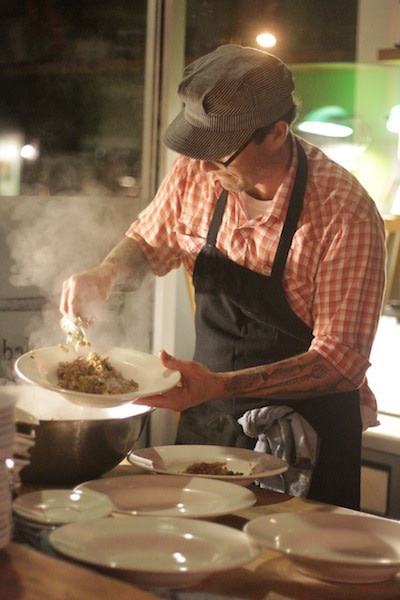 Southeast
SE 26th: Meta microbrew project Gigantic Brewing (a dream team collaboration from long-time Hopworks brewmaster Ben Love and innovative Rock Bottom brewer Van Havig) will open its Southeast Portland tasting room on Wednesday, May 9th.
SE Belmont: Genoa chef David Anderson has announced a series of monthly collaboration dinners featuring top chefs around Portland, starting with Tabla chef Anthony Cafiero. The six-course meal series kicks off on Sunday, April 29. More information and reservations available by emailing [email protected]
Northeast
NE MLK: Jason French's cozy and colorful wood-fired eatery Ned Ludd will now serve its seasonally-inspired dinner seven days a week, 5 pm to close.
North Portland
Kenton: The Portland Farmers Market has announced the launch of their newest market, along North McClellan Street in North Portland's Kenton neighborhood. The eighth PFM location will debut on June 1, and will feature 35 vendors along the closed-for-traffic block every Friday from 3 to 7 pm.
Southwest
SW Market: Restaurateur Kurt Huffman has confirmed to Eater that ChefStable will take over Carafe Bistro, and will debut a new concept and design within the year. The new eatery will be manned by chef Troy Furuta, formerly of Clyde Common and SoCal's Aire and Pascal. Carafe Bistro debuted in 2003, and chef Pascal Sauton left the French spot in 2011 to open Milwaukie Kitchen & Wine. Stay tuned for more news at it rolls in.
SW Alder: The Grilled Cheese Grill's third cart is now open downtown in the SW 10th and Alder cart pod. In addition to the grilled cheese-packed regular menu, weekly specials are announced on Facebook. Get your cheese on, folks!
Statewide
Farmlandia: The Portland Business Journal reports that Oregon farmers set a new record for agricultural sales in 2011. Thanks to the support of enthusiastic chefs, diners, and shoppers throughout the state, Oregon's farmers, ranchers and fishers made $5.2 billion last year, a nearly 20% jump from $4.4 billion in 2010. Our state's top commodity? Cattle!
Nationwide
Travel + Leisure: Portland is number two on a list of America's Best Cities for Hipsters thanks to our beer, bike, and culinary scenes (with a special shout-out to Hopworks' BikeBar which combines all three).
Got a food news tip? Send it my way at [email protected]!