FOOD AND DRINK EVENTS
Eat Beat Weekly Planner
Our digest of Portland's top upcoming food and drink events, including a Cantina Tramin Wine Dinner at Gruner and the EaT: An Oyster Bar Crawfish Boil at Montinore Estate in Forest Grove.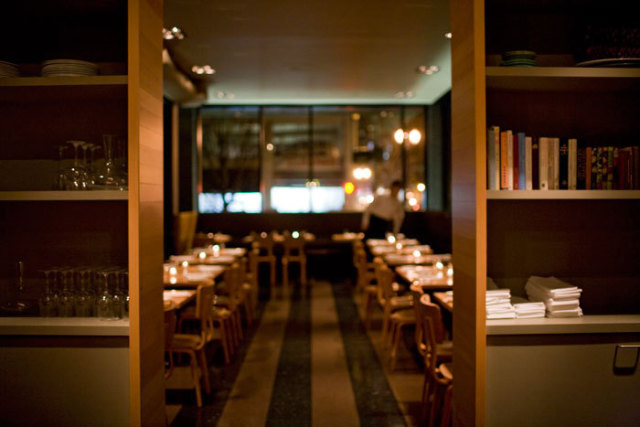 Cantina Tramin Wine Dinner at Gruner
What: A four-course Northern Italian-inspired tasting menu paired with the lauded wines of Cantina Tramin in Gruner's private dining room. Dishes are set to include a variety of seasonal appetizers, Duck Sugo over polenta, warm chicories salad with prosciutto, and a Financier Cake served with rhubarb coulis and lemon lavender sorbet.
When: Wednesday, April 18th at 7 pm
Where: Gruner 527 Southwest 12th Avenue; 503-241-7163
How Much: $75 per person, including food and wine. For reservations or more information, call the restaurant at 503-241-7163.
Mountains to Metro
What: This annual wine event brings together top Portland restuarants and over 35 Chehalem Mountain wineries including Adelsheim, Archery Summit Winery, Bergstrom Winery, Dobbes Family Estate, J.K. Carriere Wines, Ponzi Vineyards, Raptor Ridge Winery, Trisaetum Winery, and many more. A full list of participating wineries is available here. Food will be provided by Allium Bistro, Davis Street Tavern, Irving Street Kitchen, Olympic Provisions, Recipe, Simpatica, and more.
When: Thursday, April 19th, from 5 to 9 pm.
Where: The Governor Hotel 614 Southwest 11th Avenue
How Much: $40 including all food and wine. Tickets are available here.
EaT: An Oyster Bar Crawfish Boil at Montinore Estate in Forest Grove
What: The folks behind EaT: An Oyster Bar are bringing a little Cajun flavor to Oregon's wine country to honor the release of Montinore's 2011 Rosé, Müller Thurgau, and Gewürztraminer. The crawfish boil will feature huge batches of boiled crawfish and shrimp and the musical stylings of The New Iberians Blues and Zydeco Band. Winemaker Stephen Webber will be on hand to answer questions and raise a toast.
When: Saturday, April 21 from 12 noon to 4 pm
Where: Montinore Estate 3663 Southwest Dilley Road Forest Grove, OR
How Much: $45 per person or $35 for wine club members. To RSVP, contact Jill at 503-359-5012 × 106 or [email protected].
Earth Day Artisan Market at Cooper Mountain Vineyards
What: A market showcasing the culinary artisans who are growing, foraging, raising, and writing about Oregon's bounty. Several culinary craftsmen, including Oregon Truffle Oil, Feastworks Charcuterie, Fraga Farms Organic Goat Cheese, and the Oregon Olive Mill will be on hand with their locally-produced goods, and Ashley Gartland will also signing her book Dishing Up Oregon.
When: Saturday, April 21st, from 1 to 4 pm.
Where: Cooper Mountain Vineyards 20100 SW Leonardo Lane Beaverton, OR
How Much: Admission is free.
Weingut Ackermann and Teutonic Wine Pairing Dinner at The Berlin Inn
What: A four-course German meal paired with the world-renowned wines of Weingut Ackermann and Teutonic Wine Company. Dishes will include warm lentil salad and Ackermann 2011 Riesling, smoked hamhock and white bean soup, Jager Scnhitzel with spatzle, and a cherry strudel paired with Ackermann 2002 Spatlese Riesling.
When: Sunday, April 22nd at 6 pm
Where: The Berlin Inn German Restaurant & Bakery 3131 SE 12th & Powell
How Much: $65 per person including food, wine, and gratuity. For reservations, call 503-236-6761. Mention any dietary restrictions when making your reservations, the Berlin Inn is pleased to accommodate you!
Le Mixeur: Sharky at Teardrop Lounge
What: A cocktail-fueled benefit for the Northwest Autism Foundation and Sharky Munat, the ten-year-old son of Ted Munat (author of Left Coast Libations and creator of the Le Mixeur event series). Nine Portland bartenders, including Mary Bartlett (Park Kitchen), Sean Hoard (Teardrop Lounge), Tommy Klus (Kask), Jeff Morgenthaler (Clyde Common), Adam Robinson (Bent Brick), Kelly Swenson (Spirit of '77), and many more. Food will be provided by Jennifer & Ken Norris (Riffle NW), Scott Dolich (Park Kitchen), Alex Yoder (Olympic Provisions), and Bridegport Brewing.
When: Sunday, April 22nd from 6 to 11 pm.
Where: Teardrop Lounge 1015 NW Everett Street
How Much: $60 cash (at the door only) includes all food and drinks throughout the five hour event. The event is RSVP only, so save your spot early by emailing [email protected].
Hotel Monaco 100th Year Anniversary Party
What: Portland's historic Lippman and Wolfe building was built one hundred years ago, and the current resident—the Hotel Monaco—is going to party like it's 1912. Enjoy food, drink, live music, door prizes, and photographs and momentos from the Oregon Historical Society collection showing how the Lipman and Wolfe building has been transformed over the past century.
When: Thursday, April 26th, from 5 to 7 pm.
Where: Hotel Monaco, 506 SW Washington
How Much: $10 donation requested, all proceeds benefit the Oregon Historical Society.
Dundee Hills Passport Tour
What: The 7th annual tour of Dundee Hills wineries, restaurants, and local shops brings major deals to wine lovers who purchase the $20 Dundee Hills Passport. For full information on Eat Beat, click here.
When: The entire month of April
Where: At wineries and tasting rooms throughout the Dundee Hills
How Much: $20. To purchase online, head to dundeehills.org
Know about a great event coming up that should be on our radar? Shoot me an email at [email protected] or give me a shout over on Twitter at @allisonejones. Now get out there and start eating!