FOOD AND DRINK EVENTS
Eat Beat Weekly Planner
Our digest of Portland's top upcoming food and drink events, including the 8th Annual Oregon Garden Brewfest, a series of Shochu talks at Ping, and the launch of Portland Walking Tours' "Flavor Street" food cart tour.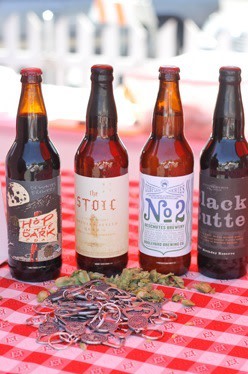 8th Annual Oregon Garden Brewfest
What: This annual botantical garden beer festival brings together over 40 breweries pouring 100 brews to the tunes of live music, as well as tasting instruction from Women Enjoying Beer and an Oregon Garden Homebrew Competition.
When: Friday April 27th and Saturday April 28th from noon to 11 pm.
Where: The Oregon Garden at 879 West Main Street in Silverton, Oregon
How Much: For pre-orders, a one-day tasting package (including admission, tasting mug, 7 tasting tickets, and priority entrance) is $15, two-day tasting package (admission, mug, 14 tasting tickets, and priority entry) is $25.
Admission for both days, tasting mug, 14 tasting tickets, and quicker entry at the Brewfest. Admission will be the same price at the door, with fewer tasting tickets. Tickets available here.
Oregon Distillers Guild's

TOAST
What: The largest public tasting of craft spirits in North America, featuring more than 50 local, national, and international artisan producers, pouring over 100 different spirits. The event will be home to The Mix Lounge, featuring the Oregon Bartenders Guild mixing and pouring samples of cocktails using many of the local spirits at TOAST.
When: Saturday and Sunday, April 28th and 29th from 3 to 8 pm
Where: The sky bridge level of Portland's World Trade Center at 121 SW Salmon Street
How Much: Admission at the door is $49 each day, and includes spirit and cocktail samples. $40 advanced tickets can be pre-purchased online, and two-day passes are just $75. Tickets include a "light buffet" and ODG tasting glass. (21+ only).
Shochu Talks at Ping
What: A series of educational talks about the history and process of shochu production from Tim Navarrette, Ping's resident Bar Manager. The event will include a tasting consisting of four shochu from Ping's selection of over 30 (and counting!) and an array of small bites from Ping's kitchen. The kick-off event on Saturday April 28th will also feature Matt Mount of House Spirits, who will be talking about shochu and his experience producing shochu in Oregon at House Spirits.
When: Saturday, April 28th at 3 pm; Thursday, May 3rd at 2:30 pm; Saturday, May 19th at 3 pm; Thursday, June 7th at 2:30 pm.
Where: Ping at 102 NW 4th Avenue
How Much: Class, drinks, and food are $35.00 per person. To reserve your spot, email [email protected] or call the restaurant at 503-229-7464.
Unwine'd: Celebrate Oregon Wine
What: Over 100 Oregon wineries will take over the Leftbank Annex for an epic tasting paired with over a dozen local restaurants (including bluehour, Community Plate, Davis Street Tavern, Park Kitchen, Urban Farmer, and Xocolatl de David). The event will also feature informal "education stations" to help you know what to look for in your sip, as well as a wine store so you can take home a bottle or six of your favorites. Check out the mega list of participating wineries here.
When: Sunday, April 29th, from 3 to 6 pm
Where: Leftbank Annex at 101 N. Weidler
How Much: $50 including wine, food, and fun. Tickets available here.
Sugar Cube Cookbook Launch Party
What: Top Portland pastry chef Kir Jensen will launch her new cookbook Sugar Cube: 50 Deliciously Twisted Treats from the Sweetest Little Food Cart on the Planet at The Cleaners at the Ace Hotel. Jensen will be joined by co-author Danielle Centoni (editor of Mix magazine) at the free Powell's-sponsored event that will almost certainly feature a sweet treat or two. Can't wait? You can pre-order a signed copy of Sugar Cube from Powell's here. Eat Beat has also found out that the first 10,000-copy printing of The Sugar Cube is already sold out (solely through pre-orders), and will head into a second printing before the book is released!
When: Sunday, April 29th at 3 pm
Where: The Cleaners at the Ace Hotel at 1022 SW Stark St.
How Much: Free!
Tuetonic Wine Party at Barwares
What: The debut of chef Johanna Ware's Barwares, the bar adjacent to her NE Fremont eatery Smallwares, for which she's teaming up with Teutonic Wine Company for a party to remember. The event will include wine pours, one beer, and snacks. Cocktail tastings are available for an additional $5, and the bar will be open for those looking to sample from Barwares' upcoming drink menu.
When: Sunday, April 29th
Where: Barwares at 4605 NE Fremont Street
How Much: $25, tickets available here
Kenny & Zuke's Married to the Mob Sunday Family Dinner
What: A multi-course dinner inspired by Ken's childhood growing up dining out in classic Italian-American restaurants in Queens. The throw-back Italian-American family style dinner will feature Queens Antipasto (Italian salumi, fresh mozzarella, giardiniera, olives, and peppers), Ken's famous garlic bread, cioppino, chicken cacciatore with spaghetti, and tiramisu.
When: Sunday, April 29th, seatings at 4:30 and 7:15 pm.
Where: Kenny & Zuke's at 1038 SW Stark St
How Much: $37.50 per person. Beer and wine available for purchase. Kids under 12 just $18.75. Call the Deli at 503-222-3354 to reserve your spot.
The World of Ribs with Steven Rauchlen at Irving Street Kitchen
What: The Portland Culinary Alliance, Irving St Kitchen chef Sarah Shafer, and B.J. Smith of Smokehouse 21 will host a finger-lickin' multi-course tasting menu of various styles of ribs from around the world to welcome guest-of-honor, the award-winning author, journalist, cooking teacher, and TV personality, Steven Raichlen. Dinner will feature beef, pork, and lamb ribs recipes from Raichlen's Best Ribs Ever inspired by the flavors of Mexico, India, Morocco, Thailand, and the American South.
When: Monday, April 30th from 6:30 to 9.
Where: Irving Street Kitchen at 701 N.W. 13th Avenue
How Much: $49 for members, $59 for non-members including dinner, beer, wine, a signature cocktail, and gratuity. (Join the PCA now and sign up for the dinner at the members' rate!). Deadline to register is Wednesday, April 25, so get your spot here.
Launch of Portland Walking Tours' "Flavor Street" Food Cart Tour
What: Portland Walking Tours is launching a new tour dubbed Flavor Street which will explore the city's best food carts, tasting trucks, and hidden kitchens. The two-hour walk features over a half-dozen samples local inventions and international flavors, including the behind-the-trend story of the PDX food cart revolution.
When: Every Friday and Saturday at 1 pm year-round, beginning in May.
Where: The Flavor Street tour begins at the Mark Spencer hotel at 409 SW 11th Ave
How Much: $44.99 per person. Head to the PWT website for more information.
Know about a great event coming up that should be on our radar? Shoot me an email at [email protected] or give me a shout over on Twitter at @allisonejones. Now get out there and start eating!