FOOD AND DRINK EVENTS
Eat Beat Weekly Planner
Our digest of Portland's top upcoming food and drink events, including Greek Easter at Abby's Table, the "Le Mixeur: Sharky" event at Teardrop Lounge, the Mountains to Metro wine event at The Governor Hotel, and a benefit dinner at Aviar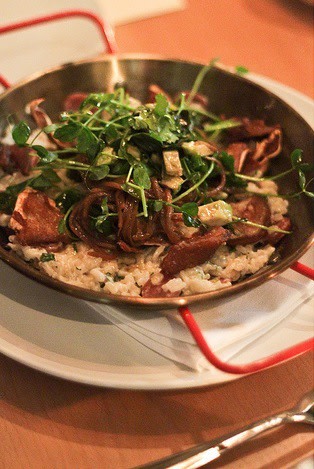 Portland Culinary

VIP

Panel: The Making of a Food City
What: Ever wonder how Portland went from being a city known for its rain to one renowned for its restaurants? Find out at this networking luncheon and informative panel from the Portland Advertising Federation featuring our own Restaurant Editor Karen Brooks, restaurateur extraordinaires Kurt Huffman and David Machado, and Carrie Welch, co-founder of the city's upcoming national food festival Feast Portland and PR maven at Little Green Pickle. The panel will be moderated by Feast Portland co-founder and Portland super foodie Mike Thelin, and will discuss how business, marketing and advocacy converged in Portland to make it one of the nation's top culinary destinations.
When: Tuesday, April 10th at 11:30 am.
Where: Bunk Bar 1028 Southeast Water Avenue #130
How Much: $45 PAF Members, $65 Non Members. Tickets available here.
Aviary Benefit for Old Town Pizza
What: When Aviary suffered extensive damage after a fire and flood last July, restaurants around Portland came together to support the eatery's team. Now, Aviary is paying it forward! Chefs Sarah Pliner, Jasper Shen, and Kat Whitehead will host a four-course benefit dinner for NE MLK's Old Town Pizza (who experienced their own fire damage on March 14). The family style dinner will be paired with Old Town beers and will include house-cured gravlax and tempura pumpkin in red curry, chicken skin salad, and crispy pig ear with coconut rice.
When: Wednesday, April 11th at 6 pm
Where: Aviary 1733 NE Alberta St
How Much: $45, including all food, drink, and gratuity. All proceeds will go to Old Town Pizza, and reservations can be made by calling the restaurant at 503-287-2400, or by email at [email protected]
Greek Easter at Abby's Table
What: Want more Easter meals? Greek Orthodox Easter falls on April 15th this year, and Abby's Table is celebrating with a gluten-, dairy-, and soy-free Greek-inspired spring meal featuring sustainably farmed local lamb from Anderson Farms, "church-style" glazed beets, a healthy take on the traditional meze platter, and decorative hand pies with tops like woven baskets.
When: Wednesday and Thursday, April 11th and 12th, starting at 7 pm
Where: Abby's Table 609 SE Ankeny
How Much: $24 for four courses. Reservations available here.
Mountains to Metro
What: This annual wine event brings together top Portland restuarants and over 35 Chehalem Mountain wineries including Adelsheim, Archery Summit Winery, Bergstrom Winery, Dobbes Family Estate, J.K. Carriere Wines, Ponzi Vineyards, Raptor Ridge Winery, Trisaetum Winery, and many more. A full list of participating wineries is available here. Food will be provided by Allium Bistro, Davis Street Tavern, Irving Street Kitchen, Olympic Provisions, Recipe, Simpatica, and more.
When: Thursday, April 19th, from 5 to 9 pm.
Where: The Governor Hotel 614 Southwest 11th Avenue
How Much: $40 including all food and wine. Tickets are available here.
Earth Day Artisan Market at Cooper Mountain Vineyards
What: A market showcasing the culinary artisans who are growing, foraging, raising, and writing about Oregon's bounty. Several culinary craftsmen, including Oregon Truffle Oil, Feastworks Charcuterie, Fraga Farms Organic Goat Cheese, and the Oregon Olive Mill will be on hand with their locally-produced goods, and Ashley Gartland will also signing her book Dishing Up Oregon.
When: Saturday, April 21st, from 1 to 4 pm.
Where: Cooper Mountain Vineyards 20100 SW Leonardo Lane Beaverton, OR
How Much: Admission is free.
Le Mixeur: Sharky at Teardrop Lounge
What: A cocktail-fueled benefit for the Northwest Autism Foundation and Sharky Munat, the ten-year-old son of Ted Munat (author of Left Coast Libations and creator of the Le Mixeur event series). Nine Portland bartenders, including Mary Bartlett (Park Kitchen), Sean Hoard (Teardrop Lounge), Tommy Klus (Kask), Jeff Morgenthaler (Clyde Common), Adam Robinson (Bent Brick), Kelly Swenson (Spirit of '77), and many more. Food will be provided by Jennifer & Ken Norris (Riffle NW), Scott Dolich (Park Kitchen), Alex Yoder (Olympic Provisions), and Bridegport Brewing.
When: Sunday, April 22nd from 6 to 11 pm.
Where: Teardrop Lounge 1015 NW Everett Street
How Much: $60 cash (at the door only) includes all food and drinks throughout the five hour event. The event is RSVP only, so save your spot early by emailing [email protected]
Hotel Monaco 100th Year Anniversary Party
What: Portland's historic Lippman and Wolfe building was built one hundred years ago, and the current resident—the Hotel Monaco—is going to party like it's 1912. Enjoy food, drink, live music, door prizes, and photographs and momentos from the Oregon Historical Society collection showing how the Lipman and Wolfe building has been transformed over the past century.
When: Thursday, April 26th, from 6 to 7 pm.
Where: Hotel Monaco, 506 SW Washington
How Much: $10 donation requested, all proceeds benefit the Oregon Historical Society.
Dundee Hills Passport Tour
What: The 7th annual tour of Dundee Hills wineries, restaurants, and local shops brings major deals to wine lovers who purchase the $20 Dundee Hills Passport. For full information on Eat Beat, click here.
When: The entire month of April
Where: At wineries and tasting rooms throughout the Dundee Hills
How Much: $20. To purchase online, head to dundeehills.org
Know about a great event coming up that should be on our radar? Shoot me an email at [email protected] or give me a shout over on Twitter at @allisonejones. Now get out there and start eating!