MENU WATCH
Get Happy with New Hours, Menus, and More
This week's menu and opening hour shake-ups from Cocotte, St Jack, Wafu, and Cafe Castagna.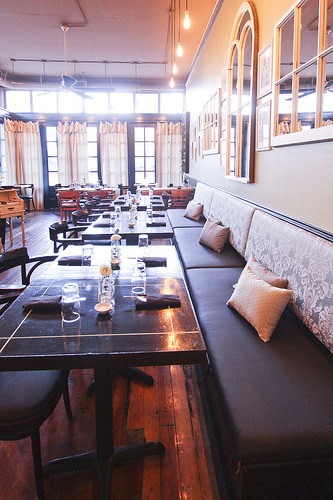 Happy Hours
Cocotte: This weekend marks the end of Cocotte's French-inspired Sunday Brunch service, which will be replaced by an all-day Sunday Happy Hour as well as extended weekly Happy Hours and new menu items. Starting April 17th, diners can stop in for cheap and chic eats Tuesday through Saturday, from 4 to 6 pm, and all day Sunday from 4 pm to close. New Happy Hour offerings will rotate seasonally, including shareable dishes like a $3 house pickle plate, $5 savory crepes or chicken liver mousse, and $8 roasted vegetable tarts or toasted baguette sandwiches with butter and radishes. 2930 Northeast Killingsworth Street
Wafu: Southeast Division hot spot Wafu will debut a new late-night happy hour this Sunday, April 15th. The affordable menu will be available Sunday through Thursday from 9 to 11 pm. Snack on $2 steam buns with fillings like pork belly with cucumber shiitake relish, mushroom with sweet potato hoisin, or chicken confit with spicy carrot, or $5 bowls of tonkotsu ramen with cheap add-ons like $2 pork belly or confit chicken leg. 3113 SE Division Street
Cafe Castagna: Southeast Hawthorne's lauded Cafe Castagna is now offering an early happy hour in addition to their late-night menu. The eatery's happy hours will now be 5 to 6 pm and 9 pm to close, Monday through Saturday, and will feature $5 specialty cocktails like house-infused hibiscus lemon drops, and drinking snacks like arancini, pinchos meruños (spicy grilled pork skewers), and the crave-worthy Cafe Castagna burger. 1758 SE Hawthorne Blvd
Tasting Menus
St Jack: Chef Aaron Barnett is launching a new chef's nightly tasting menu dubbed "Le Menu de Cuisine" beginning Thursday, April 19th. The constantly-shifting four-course menu ($55 per person) will be served family style when ordered by two or more diners, and guests can expect to feast on house specialties like Bouilabaisse with Dungeness crab, mussels, clams, squid, and cod, Pied de Cochon stuffed with sweetbreads and mushrooms, Warm Asparagus Salad with a poached egg, or the one-of-a-kind Stuffed Duck Neck with sausage, apple, and sage. 2039 Southeast Clinton Street
New Hours
Patisserie St Jack: Starting on Monday, April 16th, St Jack's patisserie will open its doors seven days a week at 8 am. Additionally, the patisserie will now close at 3 pm to allow the team to better transition from cafe to restaurant, reopening for happy hour at 4 pm.