HOMETOWN PRIDE
Hometown Pride: Chef and Sandwich Edition
Checking in on Portland's status in the national food scene, a Portland chef nabs mega props from Food & Wine and a singular sandwich wins accolades from USA Today.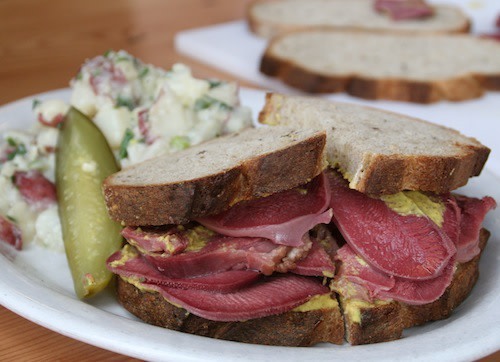 Here on Eat Beat, we love tooting our town's horn when it comes to national press and awards, and this week is no exception.
Talented chef Jenn Louis (of Lincoln and Sunshine Tavern) has been named one of Food & Wine magazine's Best New Chefs for 2012. Though Louis is no newbie to the Portland food scene—as she began her PDX culinary career in at Wildwood in 1998—the award is given to chefs who have opened and cooked in their own restaurants within the last five years. Lincoln debuted in 2008 and Sunshine Tavern opened its doors Spring 2011, so Louis more than qualified.
Louis is only the fifth Portlander to earn the prestigious award, which was also brought home by Matt Lightner in 2010, Naomi Pomeroy in 2009, Gabriel Rucker in 2007, and Scott Dolich in 2004.
The 2012 winners will be featured in the July issue of Food & Wine and will also be featured at the Food & Wine Classic in Aspen this June.
Also earning national acclaim this week is the Pickled Tongue sandwich at Downtown's Kenny & Zuke's, which was featured in USA Today's list of 10 Great Places to Bite into a Surprising Sandwich. Compiled by Susan Russo, author of The Encyclopedia of Sandwiches, the list features Portland's Pickled Toungue as well as out-there hot dogs and Thanksgiving-style turkey sandwiches.
The article admits that "the idea of a sandwich with beef tongue seemed unappetizing" but concludes "it's like pastrami…they put it on a chewy rye bread with a spicy mustard, and it's just incredible." Try it for yourself at Kenny & Zukes, and see if you agree with the experts.