MENU WATCH
Irving Street Kitchen's House Cellos
Chef Sarah Schafer is crossing the line that often separates the kitchen and the bar by whipping up a series of flavorful infused liqueurs that go beyond the traditional lemon.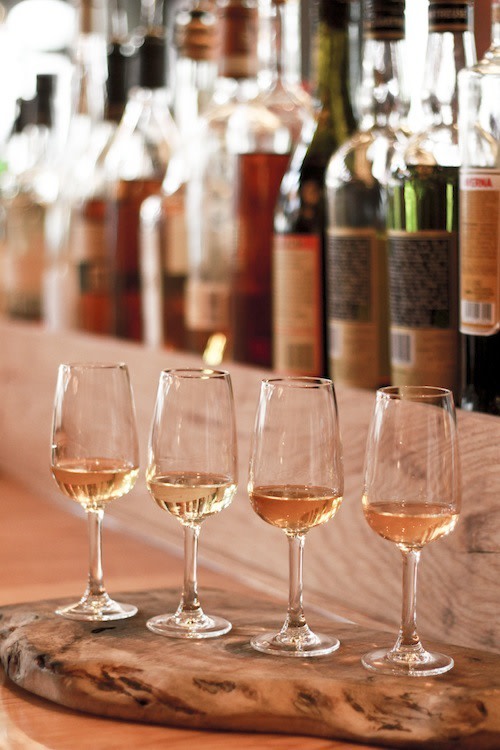 Given their late-night hours, high-pressure environment, and constantly demanding clientele, it may come as a surprise that chefs get bored with their work routines, too.
Always one to turn an moment of downtime into a culinary opportunity, Irving Street Kitchen chef Sarah Schafer has crafted a full line of creative and flavorful liqueurs inspired by traditional limoncello that are anything but expected.
Using ingredients like pomelo and black pepper, pungent and salty preserved lemon, kumquat and ginger, and Steven Smith Teamaker green tea, Schafer has spent several months perfecting her cello recipes, and is ready to unveil them to the sipping public.
The exotic liqueurs are available as a flight or as a flavorful ingredient in specialty cocktails from the bar. The pomelo and black pepper cello is currently featured in a morning mimosa during Irving Street's brunch, and the bar team is busy concocting new ways to use the delectable libations.
The boozy fun doesn't stop there—Schafer has also been working on house-smoked moonshine. Corn husks and cobs head into the smoker, then Schafer removes the kernels and dries them to concentrate their sugars. A quart of corn whiskey is added to the kernels, which are then left in a dark room for about a month, and the resulting liquid is aged in a wooden barrel behind the bar.
This "moonshine" is currently featured in a cocktail dubbed the "Higher Ground" with Temperance Trader bourbon, house-smoked moonshine, camomile liqueur, house-made barley syrup, lemon, and cava.
Come for the cellos, stay for the food: In addition to truly creative liquid concoctions, Schafer has continued to explore the seemingly infinite flavors of southern cuisine with fantastic results. The current menu features a delicious white corn soup topped with Dungeness crab and earthy huitlacoche puree, salt-block roasted Chinook salmon served with apple-cider braised onions, and a sous vide duck breast "steak" frites with perfectly golden herbed French fries that pair perfectly with a sip of green tea cello.
Irving Street Kitchen
701 Northwest 13th Avenue
503-343-9440